"I don't think we're losing momentum; I think it's building," Sarina Wiegman said after suffering her first defeat as England manager back in April, 30 games in, as if she'd handpicked the moment.
The Lionesses' incredible unbeaten run was always going to end, but on Wiegman's terms. In a fixture where the outcome didn't matter, but the learning experience was invaluable.
On an occasion which fans would still enjoy, despite the result, because the masterplan was at work and setbacks, if managed correctly, make great teams greater.
England head coach Sarina Wiegman says she is 'satisfied' with the preparations the Lionesses have made for this summer's World Cup

If the Lionesses friendly loss to Australia precedes a momentous World Cup round of 16 win (that is the earliest England can meet the tournament co-hosts this summer), many will refer to Wiegman's comments four months prior. "She was right," they will say. Momentum needs to peak within a tournament cycle, not months before it.
The Dutchwomen's process is underpinned by pragmatism and detail. At times, she comes across as an austere, stern figure but her business-like manner is what has transformed England from a team burdened by false dawns and nearly-not-quite moments into a team of champions.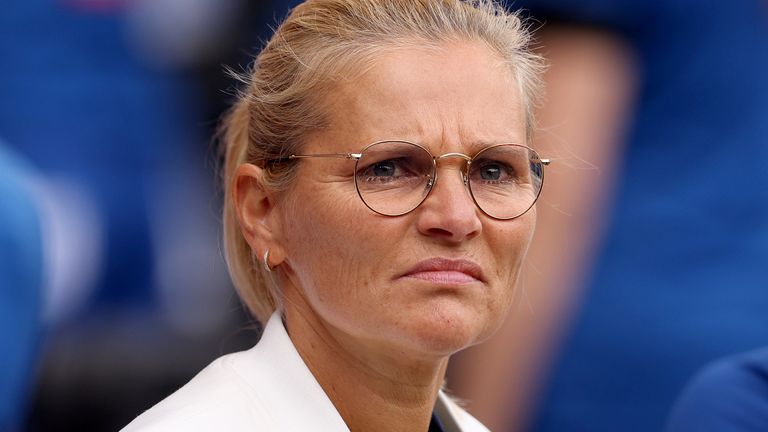 Wiegman's approach, post-European glory, is governed by the same principles of consistency and cohesion that have already secured unprecedented success. Except now the goalposts have shifted. The spotlight brighter. The weight of expectation heavier.
Never before had the same coach overseen back-to-back continental titles with different nations – it takes a special character to do so. But the world stage is new territory, unchartered waters, and an even greater level of competition.
There were 333 days between Wiegman's official unveiling and England's trophy triumph the following year. The rise was steep and sudden. England were hosting the party, yet designs on the title were hopeful not expectant. This next phase is, however, altogether different – the time to bask in European glow has passed.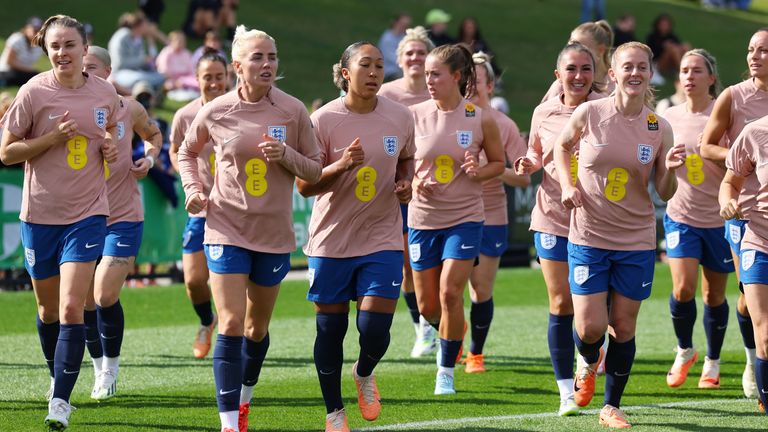 Eyes are locked on England's trajectory. Not least because the 'trauma', as Wiegman describes it, has lifted. For 56 years the nation's trophy cabinet lay bare – compounded in some way by England men's close shave with European silverware the year prior.
Now the burden has lessened, what, if anything, has changed?
Interestingly, Wiegman's 'bad cop' routine softened in the days following 2022's Euros win. The manager joked about how English people drink too much, her tone cheerful and demure.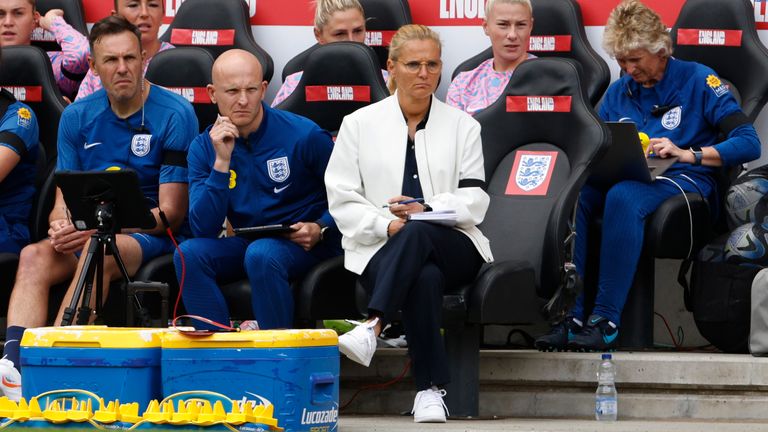 "When you have these accomplishments it's good to have a party," she remarked as England's history-makers paraded their winners' medals at a special event in Trafalgar Square, the euphoria still etched on some tired-looking faces from a night of celebrations at the Lensbury Hotel.
But in the back of Wiegman's mind, new plans were surfacing. Cogs were turning.
When the Dutch coach led her native Netherlands to European glory in 2017, it was followed by a World Cup final appearance two years later. There is precedent. But on that occasion Wiegman's side fell at the finish line, beaten comprehensively by the USA in France. That failure will, no doubt, inform and guide Wiegman's approach this time around.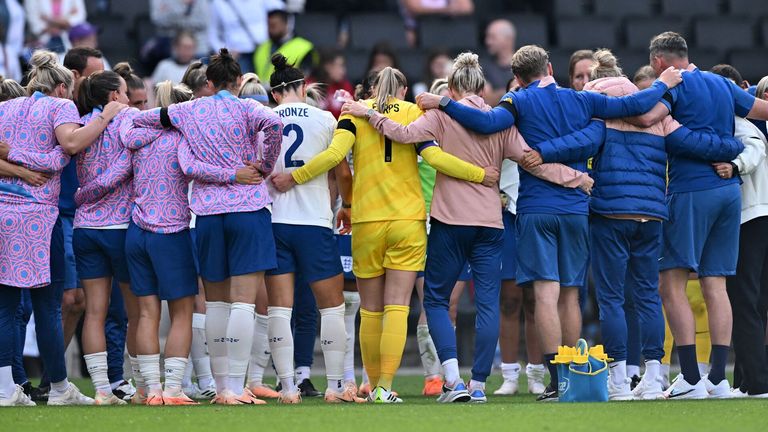 History is a great teacher and the 53-year-old is a model student. "Of course, we're being analysed very well," she acknowledged after tasting defeat to Australia. And that increased attention, as a result of the achievements of last summer, is now England's greatest threat.
Time to go up a gear.
Preparation at St George's Park has been painstaking, including the employment of a chrono coach who specialises in jet lag and fatigue management, trialing the use of light-filtering glasses, and gradually adapting sleep patterns to mimic Australian time zones.
Sarina Wiegman's England squad have landed in Australia ahead of their first Women's World Cup match against Haiti on Saturday July 22

Incremental gains are how the Lionesses have developed in Wiegman's mould. "You have to have principles in your style," she openly says – those are immoveable. But the need for England to be more dynamic and versatile has now surfaced. "The experience we had against Australia showed us we really need to be tighter. When you keep winning, it's ok, but now we really felt it – losing doesn't feel good. The expectations are really high and yes, we have a dream," she told the BBC.
Variation is not Wiegman's natural MO. Journey back to Euro 2022 and the path to success was underpinned by uniformity. The same starting XI. The same substitute appearances made by the same players at the same junctures in games. Like clockwork.
Tactical variety, however, has to be England's next evolution. Their most recent outing, a 0-0 draw with Portugal, pointed towards more of a willingness to embrace experimentation. Rachel Daly, a left-back at Euro 2022, started up front, Lauren James, a winger by trade, was trialled at No 10, while the entire backline was subject to some thought-provoking tinkering.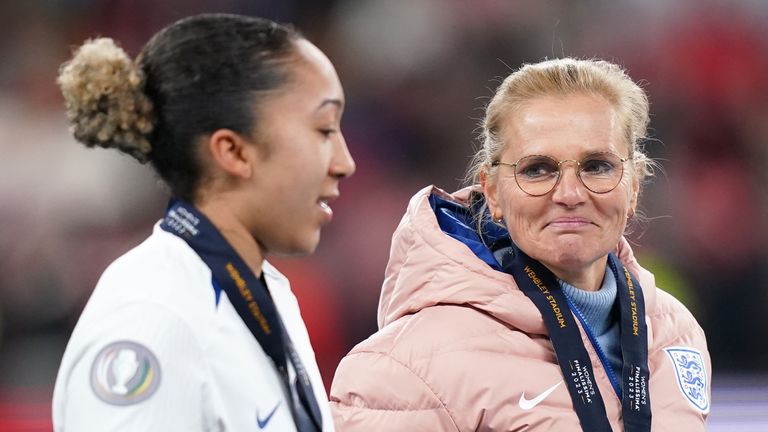 That 90 minutes, a game England should have won comfortably, raised eyebrows, but inside camp there was calm. What Wiegman wanted was information, and that, she reassured reporters post-match, is exactly what she got.
Circle back to the masterplan.
Besides, the World Cup was always a more realistic target when Wiegman took over as England head coach, based on the time it takes to build a winning squad versed in winning culture. Few thought it possible to achieve so much in such a short period, but success has been anchored in self-belief. There exists clarity, coherence and most importantly, trust. The same set of support staff have been chosen to guide England through this tournament as the last.
Prince William and Millie Bright take on Mary Earps and Rachel Daly in a game of table football as the Lionesses prepare for the World Cup

A 'leader', who is 'open' and offers 'encouragement' that 'pushes us', are words her squad use to describe the environment at St George's Park. "Sarina is a proven winner. She never leaves a stone unturned," England's all-time leading goalscorer Ellen White exclusively told Sky Sports when asked to describe Wiegman's approach. "She knows how to communicate, she's a good person and wants to know you."
Former England defender Demi Stokes shared a similar account: "Whether you're playing a final or a friendly, you get the same message. She's direct and knows exactly what she wants."
Indeed Wiegman rarely shies away from her responsibility as the decision-maker. The ruler of the house. "I don't worry very quickly," she reminded reporters back in April, when quizzed about England's World Cup preparedness. "We'll be ready," she promptly added.
After all, under Wiegman, the journey has just begun.
When and where is the 2023 Women's World Cup?
This year's tournament will be held in Australia and New Zealand making it the first-ever co-hosted Women's World Cup.
The tournament starts on July 20 with the final taking place on August 20 in Sydney at the Accor Stadium.
The USA are the defending champions and are looking to become the first team in the competition's history to win the tournament three times in a row.