"Onana was playing like a holding midfielder. He was in the positions of a holding midfielder. We struggled."
Man City manager Pep Guardiola was taken aback by the Champions League final performance of Inter's Andre Onana, the man that could become Man Utd's next No 1 goalkeeper.
It's a big compliment from a manager that has pioneered the ball-playing goalkeeper. Guardiola's use of Victor Valdes at Barcelona was viewed as revolutionary in 2009. That influence can now be seen across the Premier League.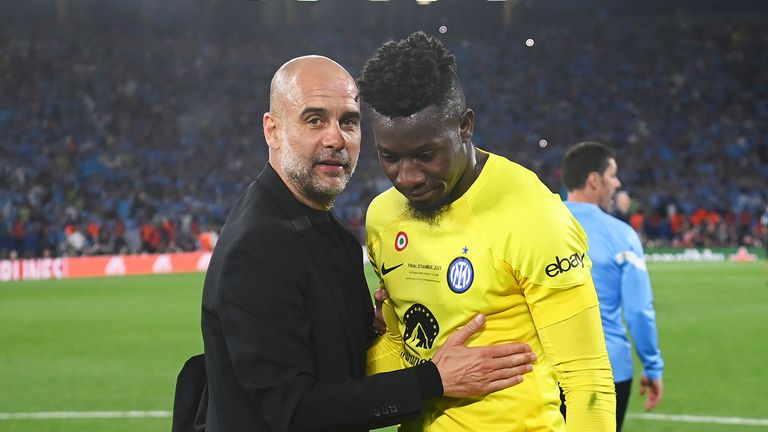 David De Gea, who was found out at times last season for his lack of quality with his feet, has announced he will not return to Old Trafford after 12 seasons, creating a vacancy for Onana. Man Utd are working to find a compromise with the Italian side for the Cameroon international, and the deal is edging closer.
Once again Man Utd manager Erik ten Hag appears to have turned to a player he has worked with previously. Onana played under Ten Hag at Ajax, where they won three league titles together and reached the Champions League semi-final in 2019.
But why is Ten Hag so keen to reunite with his former goalkeeper?
"He is probably the most sensational goalkeeper Man Utd will get for a long time," Dutch football expert Marcel van der Kraan told Sky Sports News.
"[His ability on the ball] is exactly what made him so popular at Ajax. Some of his antics were almost hilarious at times but always brilliant."
Onana arrived at Ajax as an 18-year-old after leaving Barcelona and there were some concerns about his style. But legendary Man Utd goalkeeper Edwin van der Sar saw something special in the teenager.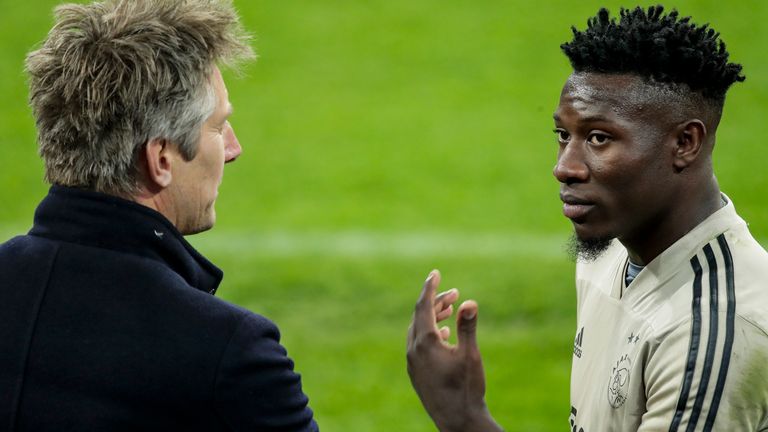 "He was a bit overconfident early in his career," Van der Kraan added of Onana. "Edwin van der Sar was convinced of him. Some of the scouts at Ajax did not want to touch him because they thought he was a liability with all his tricks and antics.
"But Van der Sar said, 'Look we want to get this boy he is going to be brilliant'. Ever since joining Ajax he was a huge success."
Onana, who was banned from football for nine months after mistakenly consuming a banned substance, has gone from strength to strength since leaving the Eredivise. The Champions League final was the perfect stage to remind the world of his talent.
"Now there is a bit more calm in his game and you could see in the Champions League final some of the build up he does," said Van der Kraan. "He can be a sweeper, he can be a full-back, he can be a midfielder, but let's keep him in goal because that's where he's best.
"Onana is, some fans call it crazy, but there is always logic behind it. It is rare to find a goalkeeper like him. No one has the confidence of Onana. If United succeed in bringing him in the fans will love him."
Even before the Champions League final, Guardiola was wary of Onana's strengths and how they could potentially hurt City.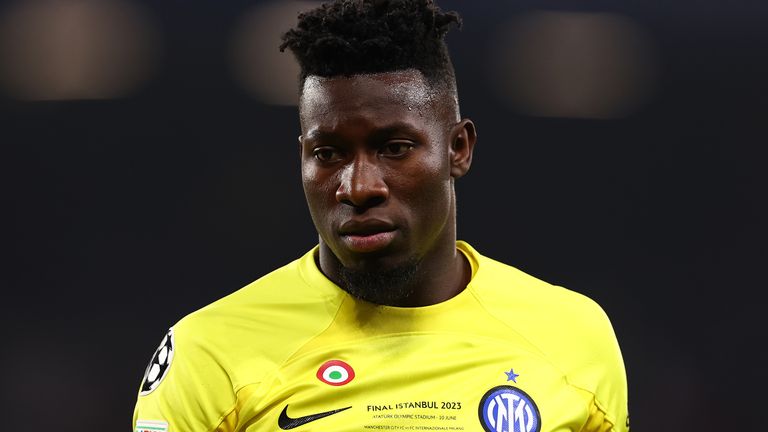 "The goalkeeper, Onana, makes it really difficult to deploy a high press against," said Guardiola. "You cannot press the goalkeeper properly. Inter are masters at keeping the ball."
If you have watched Man Utd last season, you will know that De Gea was almost the opposite of press resistant. His lack of confidence on the ball only served to encourage opposition teams to press. Think Brentford 4-0 Man Utd at the Gtech last August.
FREE TO WATCH: Highlights from Brentford's win against Manchester United in the Premier League.

Ten Hag is insistent on playing out from the back and there were clear signs of progress in his first season, helped by the introduction of Lisandro Martinez at centre-back. But old habits die hard, and De Gea's shortcomings on the ball certainly held the team back.
As the FA Cup final defeat to Man City demonstrated in June, United have been predictable when pressed well. Both De Gea's distribution and shot-stopping were dubious on that afternoon, with City's deputy goalkeeper Stefan Ortega showing Ten Hag exactly what he is missing.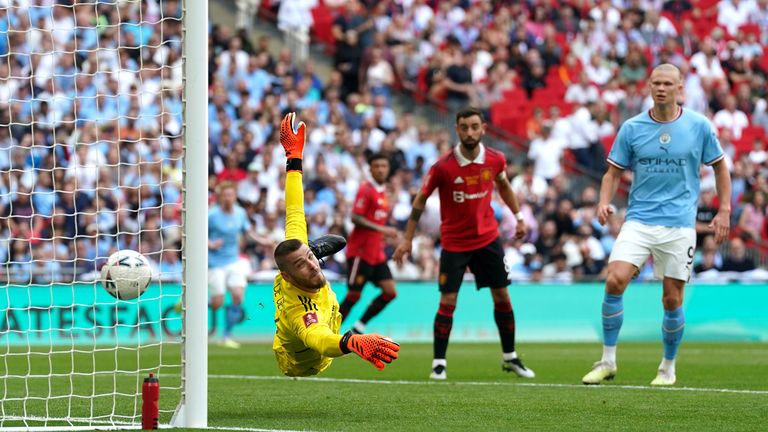 "If you look at United, for example, it is long ball," Guardiola, speaking ahead of the Istanbul final, added as he compared City's rivals to Inter. "With Marcus Rashford and another one (forward) to run onto.
"But Inter are different, they keep the ball. That is why you have to think about what you have to do. With the ball, Inter are very, very good – that is why they are in the Champions League final."
At the heart of that is a goalkeeper brimming with confidence.
What do the stats say?
Sky Sports' Adam Smith:
Distribution and positioning
As Guardiola pointed out, Onana acted almost as a holding midfielder at times against City in the Champions League final and his ability on the ball is a key attribute attracting suitors.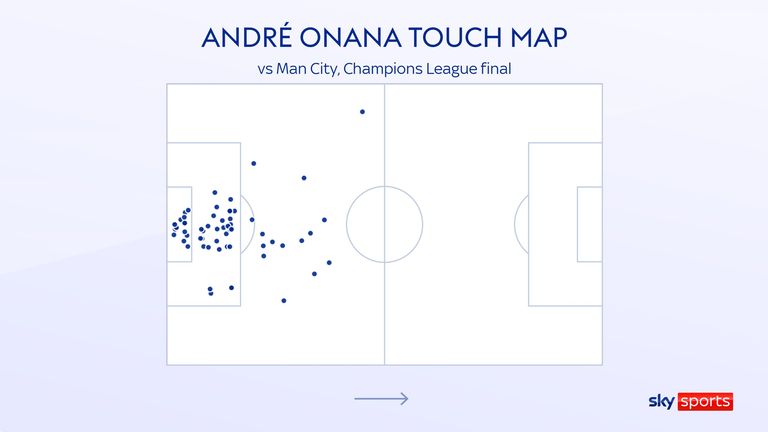 The passing networks below show how Onana has typically played out from the back with three central defenders in front of him, often going longer to the defensive midfielder, when playing over the press, or finding either full-back down the flanks.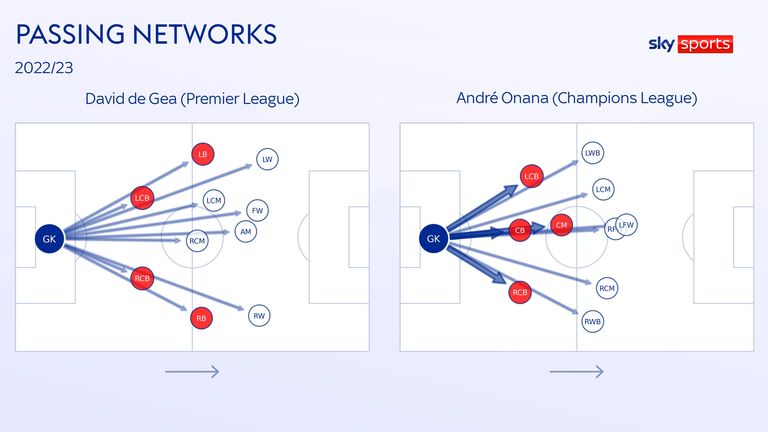 The graphics below show the outcome and distance of every goal-kick taken by De Gea and Onana in the Premier League and Champions League, respectively, last season, showing how Onana frequently completes passes into that defensive-midfield area – in addition to having a far greater success rate when firing long balls to the forwards.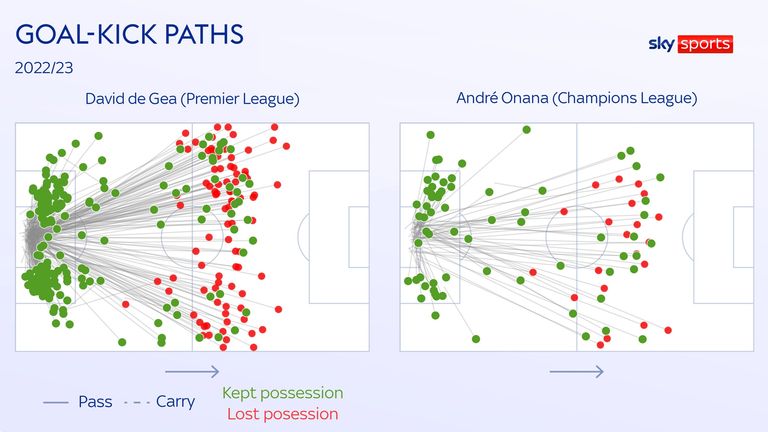 Indeed, the passing sonars below reveal how Onana is more effective at finding team-mates in almost every direction.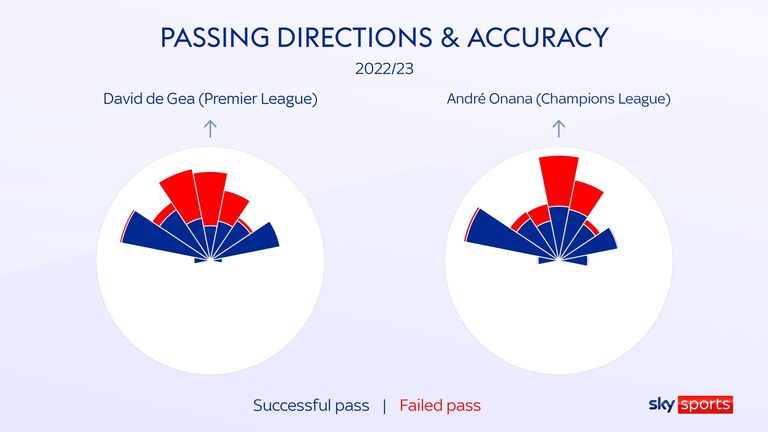 Put all of that together and the table below highlights Onana's passing ability perfectly: the Cameroon star surpasses the Spaniard in almost every passing metric – apart from De Gea typically pumps goal-kicks considerably farther upfield.
Shot-stopping
Onana was one of the standout stars during last season's Champions League campaign, en-route to their defeat to Manchester City in the final – notably producing a double stop in the 1-0 win over Porto, who had their own rising star between the sticks in Diogo Costa.
The Cameroon international was also instrumental in the 2-0 first-leg win over rivals AC Milan – pitting him against in-demand France international stopper Mike Maignan.
The scatter graph below shows how Onana ranked among the elite for keeping clean sheets during Inter's European campaign. Out of all 'keepers who clocked 360 minutes or more, only Ederson recorded a better save percentage and clean-sheet ratio – while no other stopper prevented more goals, according to xG.
Top clubs have tracked the 27-year-old for some time, but those performances on Europe's grand stage increased the 'keeper's stock. How does he shape up against De Gea – the gloves he would be expected to fill?
De Gea bowed out after 12 years at Old Trafford with the Golden Glove – keeping 17 clean sheets in the Premier League last season.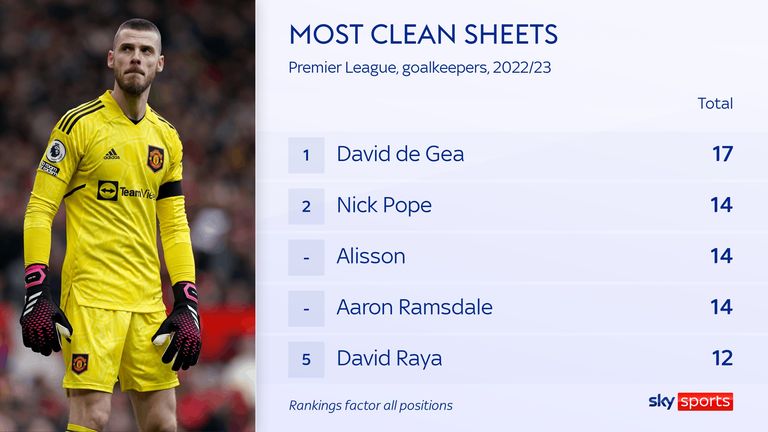 Despite De Gea's exploits, when comparing each 'keeper's league stats last term, Onana still conceded fewer goals per 90 minutes and recorded a higher save percentage in Serie A – although De Gea was the slightly busier 'keeper, kept more clean sheets and achieved a better goal-prevention rate, according to xG.
When visualised against all goalkeepers in Europe's top five leagues, both stoppers rank among the absolute best for preventing shots from close range and keeping clean sheets.
However, unlike De Gea, Onana also ranks among the top five per cent for his frequency of successful passes and avoiding costly errors – while also being more effective at stopping shots fired from range.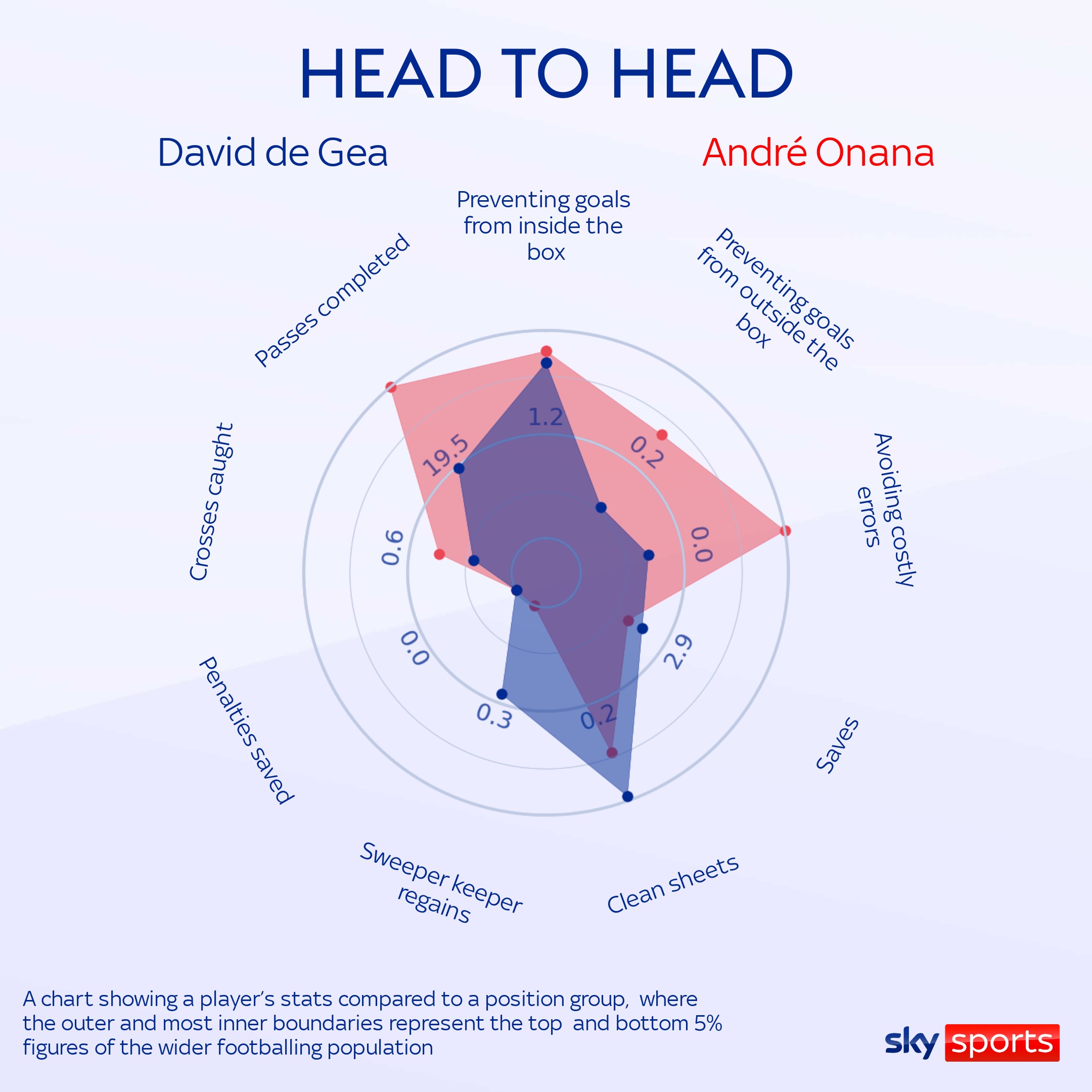 The graphic below shows the goalmouth location for every accurate shot De Gea faced in the Premier League last season and reveals his all-round effectiveness – unsurprisingly, being weakest at saving low and high in both corners of his goal.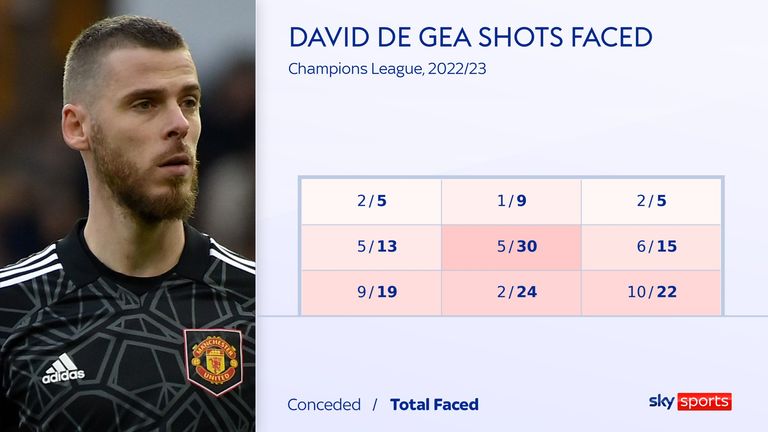 Onana's goalmouth save locations below suggest he is superior at saving attempts low in the corners – but shipped all four shots struck high in the corners.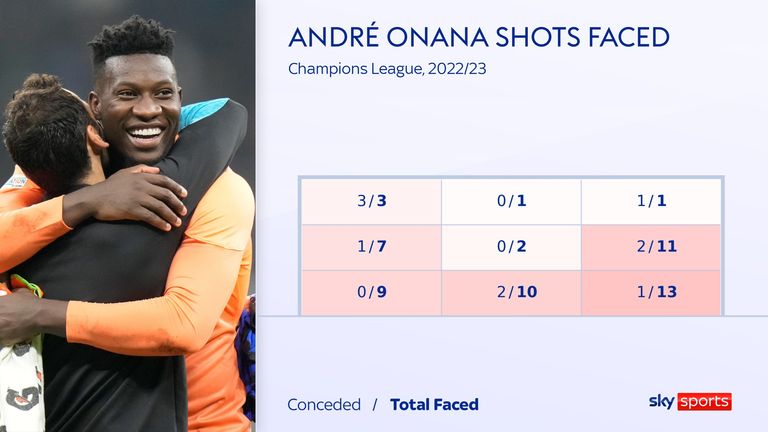 It will be a seismic change of guard at Manchester United following 12 years of service from De Gea. While Onana's shot-stopping skills appear marginally inferior to De Gea, the Cameroon international's distribution skills and reliability appear to have wooed the club's hierarchy.
Follow the summer transfer window with Sky Sports
Who will be on the move this summer when the transfer window opens on June 14 and closes at 11pm on September 1 in England and midnight in Scotland?
Keep up to date with all the latest transfer news and rumours in our dedicated Transfer Centre blog on Sky Sports' digital platforms. You can also catch up with the ins, outs and analysis on Sky Sports News.