James Trafford's last-minute penalty save from Abel Ruiz ensured a dramatic climax to England's European U21 Championship final win over Spain but it was no surprise to the player himself.
His comments that he had "told all his mates" he was going to save a spot-kick on the morning of the game, made in his post-match interview at the Batumi Arena, created national headlines.
They were familiar, though, to those at loan club Bolton Wanderers.
"I'd heard that before," Matt Gilks, Bolton's goalkeeping coach, tells Sky Sports with a chuckle. "He used to say the same thing every other week in our warm-ups. That's Traff. He's a confident lad and a believer in his own ability. But he does back it up."
Lee Hendrie reacts to James Trafford's late penalty save for England U21s against Spain

Pep Guardiola would testify to that. Back in 2020, the Manchester City manager, struck by Trafford's confidence, challenged the teenaged academy product to save his penalty in a post-training shootout. Much to the amusement of those present, he did.
"Pep said, 'You can have anything you want if you save it,'" recalled Trafford. "So I said, 'Can I start on the weekend?'"
Trafford did not get his wish but the Premier League beckons now.
His trophy-clinching penalty save against Spain, and his subsequent reaction to block the rebound, ended a 39-year wait for the Young Lions and made Trafford the first goalkeeper in the history of the competition to keep six consecutive clean sheets.
It also alerted the wider public to his huge potential.
Trafford, now in line to become the third-most expensive British goalkeeper in history with a £19m move to Vincent Kompany's newly-promoted Burnley, sees himself as a future England No 1 at senior level. Those who know him best do not doubt him.
"One hundred per cent, he can do it," says Gilks, a goalkeeper himself before moving into coaching. "He still texts me now saying nothing is going to stop him from being England's No 1. He has set that goal and there's absolutely no reason he can't reach that level."
England's heroes sing Adele's Someone Like You on the team coach after lifting the European U21 Championship trophy

Gilks' confidence in Trafford is well-founded.
The 20-year-old, who comes from a farming background in Cumbria and started out as a midfielder before switching to goalkeeper as a boy at Carlisle, has never played higher than League One but his attributes are wide-ranging and many of them are outstanding.
"When you've been in the game for 25 years, like I have, you come across hundreds of goalkeepers and there are very few that really stand out, but James is definitely one of them," adds Gilks.
"His athletic profile, the power he produces when he takes off, his reflexes. All the little details we look at are up there."
So too is his temperament. England U21 boss Lee Carsley lauded his "top mentality" after the win over Spain. It can be seen in his unwavering self-belief, but also in how he responds to adversity.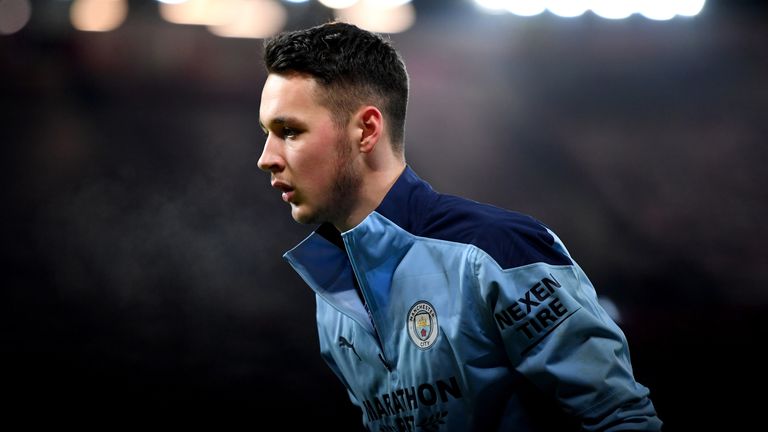 "The way he deals with setbacks, for a young lad, is really good," says Gilks. "When I was his age, I would probably sulk and not speak to anyone for a week, but he just brushes it off. It's straight on to the next game, the next training session."
Trafford showed that steeliness on his arrival at Bolton midway through the 2021/22 campaign. The youngster had seen a previous loan with Accrington Stanley cut short after losing his place in the side but an experience that could easily have knocked another young player had the opposite effect on him.
"I think it left him feeling he had so much more to offer and that he was better than what he had shown," says Gilks.
"He had an opportunity to do that with us and it all came out of him. We benefitted massively from his first loan not going so well."
His impact at Bolton was immediate. They had lost four consecutive League One games at the time of his arrival but, with Trafford installed in goal, they won the next four without conceding once.
Trafford started every game in what remained of that campaign, then returned for the whole of last season, keeping a club-record nine consecutive home clean sheets between December and February and helping Bolton win the Football League Trophy at Wembley.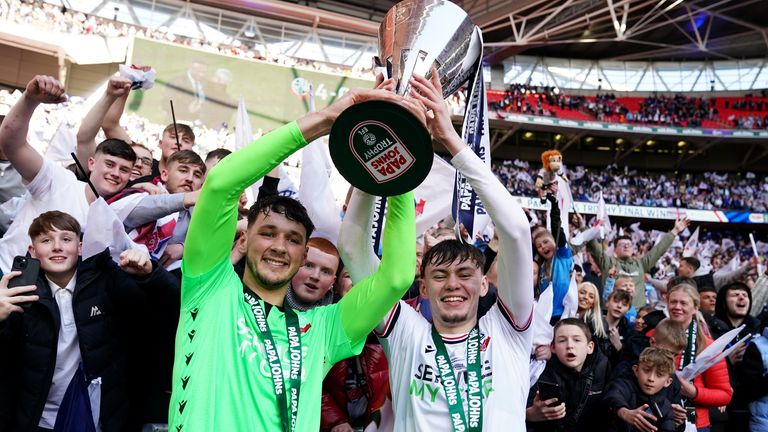 "He was like a breath of fresh air when he came in," says Gilks. "He was a big, confident 'keeper in and around the penalty area, and he was great in the dressing room. We tried to tidy up parts of his game, but mostly it was just making him understand the league.
"When you're playing for Manchester City in academy football, it's all very neat and tidy in front of you. But when you get in front of hairy men in League One who have got really powerful shots, it's very different.
"It's hustle and bustle. Strikers smash everything. He had to get used to that, but the more games he played, the more he grew in confidence, in himself, in the team, and vice-versa.
"It was a perfect fit in the end."
That is not to say it was without hiccups. Gilks relished watching Trafford flourish and they remain in contact now – "I was jumping around the living room when he made the save against Spain" – but the headstrong youngster had to be reined in at times.
"He could be a bit of a teenager," chuckles Gilks. "Sometimes he wanted to do different things to what I'd put on. He would be out kicking balls for half an hour or even start taking penalties. There were days I had to keep him inside or send him back in.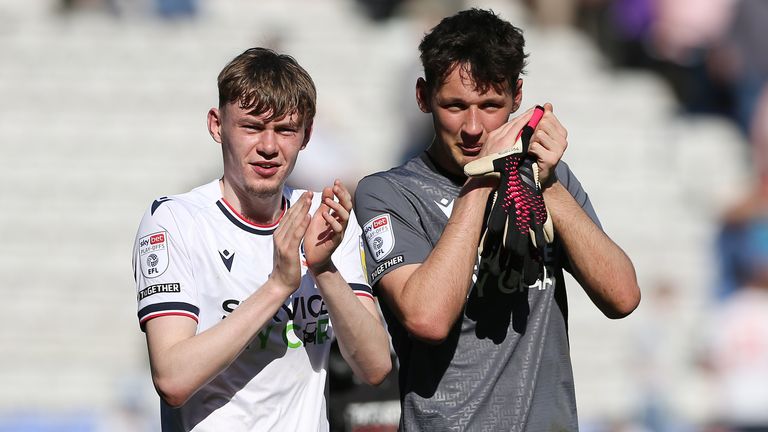 "We had to manage him in that respect, but I knew that was just him expressing himself and enjoying himself, and I could empathise. It was a little bit of give and take but, because we needed him, and we trusted his ability, he had a bit of leeway."
His importance was heightened, given Bolton's commitment to playing out from the back under manager Ian Evatt, by his ability with the ball at his feet. Trafford's passing game, honed in City's academy, is a major part of his appeal to Kompany and Burnley.
"James showed he could play through the lines, find team-mates and bounce passes off defenders, which is obviously what he had been taught at Manchester City," says Gilks.
Those qualities were evident with England throughout their successful European U21 Championship campaign as well as during his time with Bolton. Like Ederson back at Manchester City, Trafford is capable of precision over longer distances too.
Indeed, in addition to the many saves and clean sheets that endeared him to everyone at Bolton, there were three assists, the most by any goalkeeper in England's top-four leagues since the start of 2021/22.
It is just another reason to be excited about his future.
"He's had success in Manchester City's academy, with Bolton and with England U21s, but if he keeps working hard, with the right coaching and training, he can get better and better," says Gilks.
"The step up from League One to the Premier League is a massive shift, mentally, and in terms of quality. It will be a lot for a lad of 20. But James has the talent and, most importantly, he is strong enough as a character to deal with anything.
"When he sets a target in his head, he goes after it."
From Bolton and Batumi to the Premier League, James Trafford will be going for the England No 1 shirt next.