With Celta Vigo needing a result against champions Barcelona on the final evening of the season in LaLiga, it was the youngest starter on the pitch who proved to be the hero. Local boy Gabri Veiga scored twice in a 2-1 win at a boisterous Balaidos.
Those goals were numbers 10 and 11 in LaLiga for the 21-year-old Veiga. Nobody in the competition scored more from outside the box last season. It has been a remarkable rise for a player who only scored his first goal for the senior side in September.
Indeed, the midfielder's breakthrough has been so spectacular that it is set to be his last in a Celta shirt – at least for now. Veiga has attracted interest from some of the biggest clubs in the Premier League, although Paris Saint-Germain lead the race for his signature.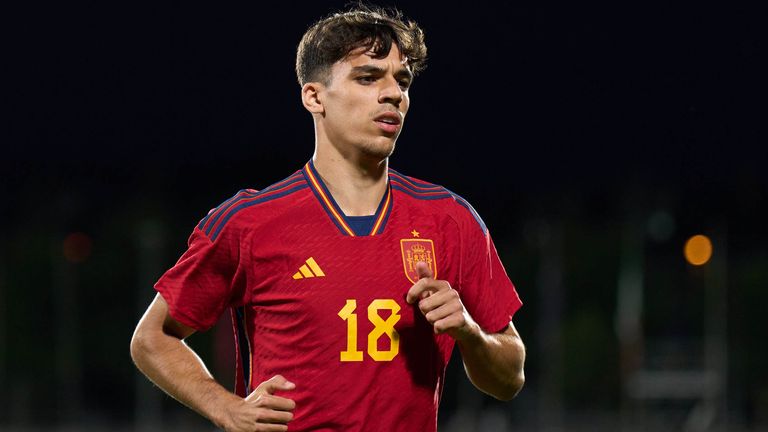 It will be fascinating to see if his success can be replicated elsewhere. Not just because talent can be lost in Paris but because the circumstances that saw Veiga emerge as a potential star are peculiar. His runs from deep seem to come from another age.
He had been a forward in his teenage years and was first used as a No 10 by Celta before head coach Carlos Carvalhal identified his ability to operate in a deeper role. It is from there that he has thrived, maintaining his goal threat with those late runs into the box.
That is what makes him so special.
"I told him that if you play as a No 10 you will become a very good player," Carvalhal tells Sky Sports. "But if you play as a second midfielder and are able to keep doing this with goals and assists you are probably unique in the world in the way that you move."
Carvalhal himself is a fascinating coach because he has undergone something of a mid-career epiphany. After working in the Premier League with Swansea, he took time away from football to rethink his approach and re-emerged with a different outlook on the game.
"We wanted to test new things, try new things," he says. Rio Ave in Portugal provided the platform. He took them into Europe with a fifth-placed finish, the best in the club's history, before reaching both domestic cup finals with Braga, winning one of them.
Arriving at a struggling Celta in November, only Barcelona and Real Sociedad picked up more points in the three months following the World Cup as Carvalhal continued to innovate. "The initial positions of the players are the same but the dynamics are different."
That was particularly important for Veiga, a midfielder with a twist.
"The way that we saw our dynamic at Celta was that the right side of the team would build the attacks and the left side of the team would balance everything. Oscar Mingueza started on the right side of defence but sometimes he would push on into midfield.
"When Mingueza broke the lines, he would push into the position occupied by Gabri Veiga and Gabri Veiga would then jump one position, moving into the position of Iago Aspas. Iago Aspas would jump too. This is football. It is how we created the situations.
"With this way of playing, Gabri Veiga was like a fish in water. He knew when to jump. He knew when to join the attacks. He was very hungry to do that. And he knew that he had Fran Beltran and Luca de la Torre to balance the team on the left. This was important."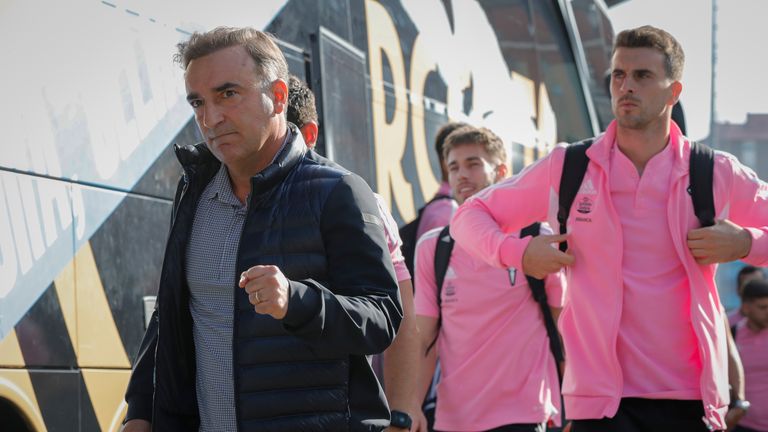 The genius of Veiga was to embrace his new role. It needed a conversation. "When we arrived, we saw a player who played much better coming from deep because he is very strong in those vertical movements so we gave him a challenge," says Carvalhal.
"We said, listen, Gabri. If you play as a No 10, it is not exactly what we want because we have Iago Aspas who can do that and we want to play with a striker too. Our challenge to you is to play as one of the two midfielders, Fran and you together in the middle.
"It is a very important role because you must defend and control that line of four in the middle. You are good at pressing and when we win the ball you can surprise the opponent because they do not expect a midfielder to make those runs and score goals.
"He accepted that challenge very well. He was absolutely amazing."
The second goal against Barcelona on that memorable night in Vigo was a cross-shot that lofted over the goalkeeper but the first was more typical. Veiga's driving run into the box was not tracked and his measured finish found the net off the inside of the far post.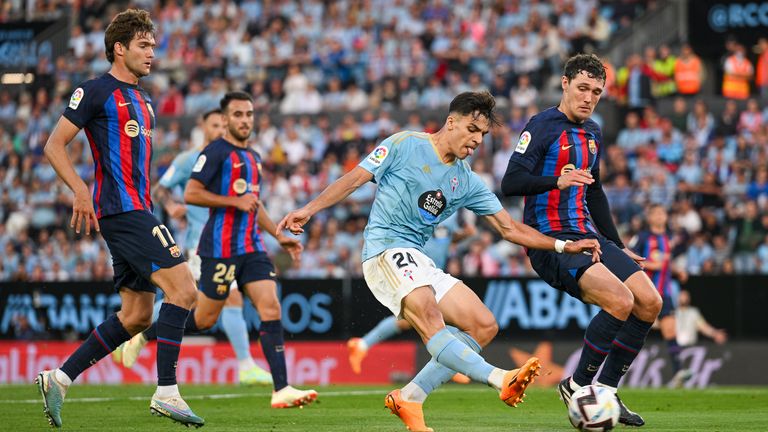 There was the chipped finish at Real Betis, the curled strike at Espanyol and the effort from distance at Almeria. More than once he has found himself in the right place to convert, doing so twice in one game at home to Valladolid. Those instincts are there.
"He finishes goals very easily because he was a striker."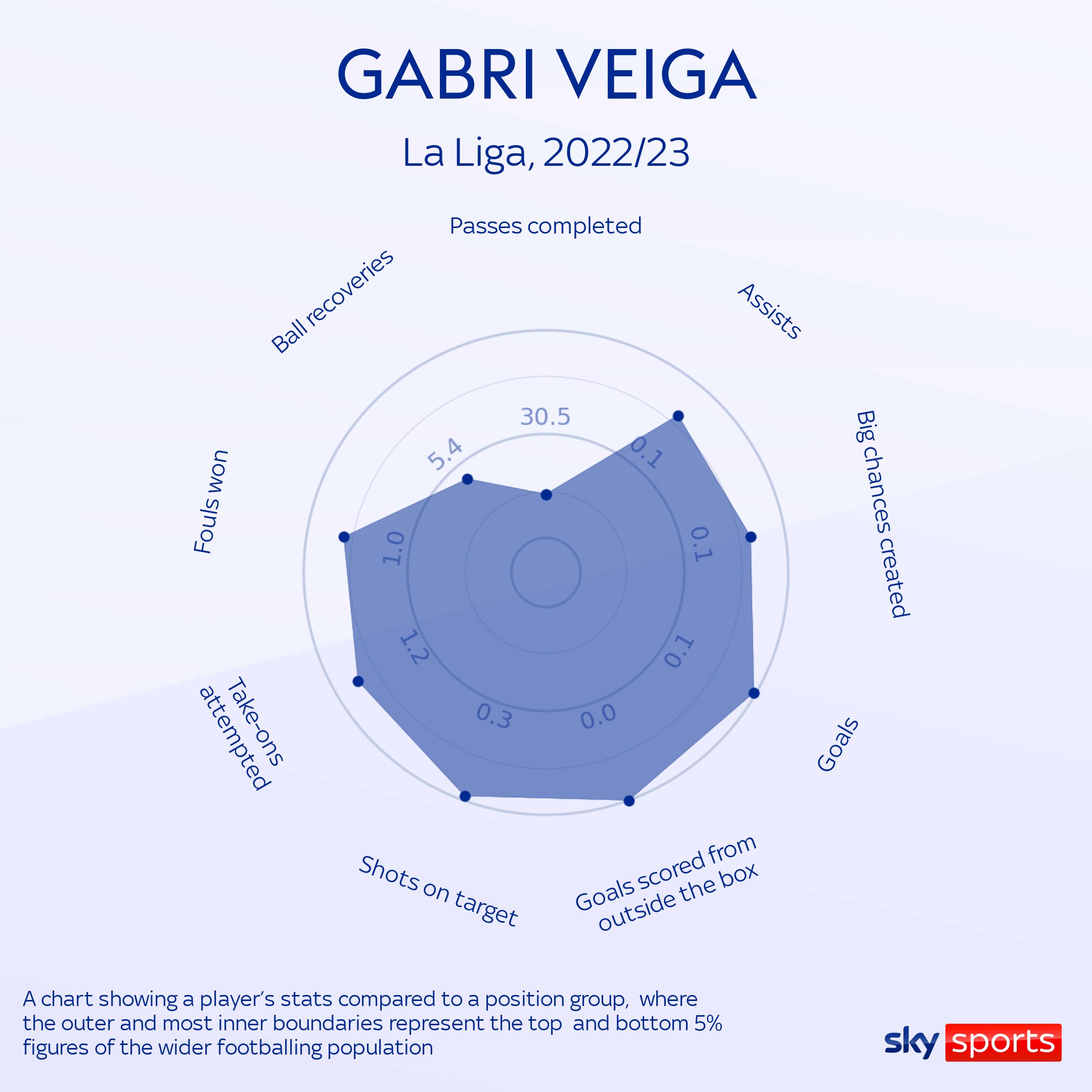 That is the blend that makes him such an attractive proposition. Carvalhal is a believer. But once more he stresses it is the blend of the team that is just as important as the blend of skills in the player that will be crucial to helping Veiga fulfil his potential.
"In football, you need to balance the team all the time. If you have only one midfielder there when you lose the ball, you can lose this balance. At Celta, we had a player who came inside from the left to provide this balance when Gabri Veiga went forward to score.
"For the next step, the coach must know him very well but coaches are clever and they will understand this. He will do well as a No 10. He will do well. But if he plays as a midfielder with that support around him, Gabri Veiga can be an extra special player."