Shares of China's troubled Country Garden Holdings Co. will be dropped from Hong Kong's Hang Seng Index, the stock index compiler announced Friday, in the latest blow to the company.
The property developer's shares
2007,
-1.30%
have tumbled 71% this year, with more than 50% of that move coming in the most recent quarter amid a crisis for the indebted real-estate industry and difficulties for China in restarting its economy after COVID lockdowns.
China's second-largest developer, China Evergrande Group 
EGRNF,
,
 filed for Chapter 15 bankruptcy protection in New York late Thursday.
Read: China Evergrande collapse shows need for $1 trillion Beijing rescue plan, says Clocktower strategist
Related: China Evergrande has $28.1 billion of outstanding bonds as it files for Chapter 15 bankruptcy
The Hang Seng Index itself has lost more than 10% in August and is heading for its worst monthly performance since October 2022, as the developer's woes have weighed on the index.
Country Garden failed to make bond interest payments and suspended trading for bonds, as it warned of a loss of up to RMB55 billion ($7.62 billion) for the first half of the year. Moody's Investors Service cut its rating further into junk-bond territory.
GimmeCredit downgraded the bonds to deteriorating from stable on Wednesday. "Country Garden is in a downward spiral, with its bonds now trading at very low cash prices," analyst Cedric Rimaud wrote in the downgrade.
"The support from its controlling shareholder and from the government will be necessary to keep the business afloat, but the market dynamics remain very weak and it will continue to struggle, until the Chinese property market starts to recover," Rimaud said.
Country Garden's bonds saw buying this week, likely from distressed funds, as they are trading at deeply distressed levels of cents on the dollar.
FactSet lists a number of institutional investors as holders of the bonds, including Pimco, which is owned by German insurer Allianz SE
ALV,
-0.32%,
and BlackRock Inc.
BLK,
-0.21%,
although it is unclear if they have held onto their positions.
GimmeCredit's Rimaud said Western investors are unlikely to gain access to any physical collateral in the event of a default or bankruptcy in the way they would with a U.S. company.
"From the Chinese government's point of view, the action point is the availability of loans through the domestic banks, the role of local government in providing access to land for development or collateral, and the "shadow banks" that have been used extensively to provide funding to the sector," he told MarketWatch.
If Chinese leaders have to choose between local property owners in lower-tier cities and providing support to offshore international bond managers that have bought the USD bonds, their priority will be to ensure that there is no social unrest in China's less developed areas, rather than resentment in New York or London's board rooms, he said.
"The big global players must have seen over the last two years how the property markets have evolved in China," Rimaud told MarketWatch. "If they held onto their bonds, that is because they either were running passive strategies or, if they are active managers, they took a view that the market would recover. "
But they must have been aware of the risks, he said, noting that bondholders were wiped out on Credit Suisse's Additional Tier 1 bonds—also called AT1 bonds, or contingent convertible bonds or CoCos — which the Swiss regulator wrote down to zero as part of the bank's merger with UBS back in March.
That event spooked investors in the AT1 market, which is valued at about $275 billion.
For more: The $275 billion bank convertible bond market thrown into turmoil after Credit Suisse's securities wiped out
"The market is the market," said Rimaud.
The following chart from data solutions provider BondCliQ Media Services shows net buying of the most active bonds over the last 10 days.
The following chart shows prices have actually risen over the last five days, although they remain at distressed levels.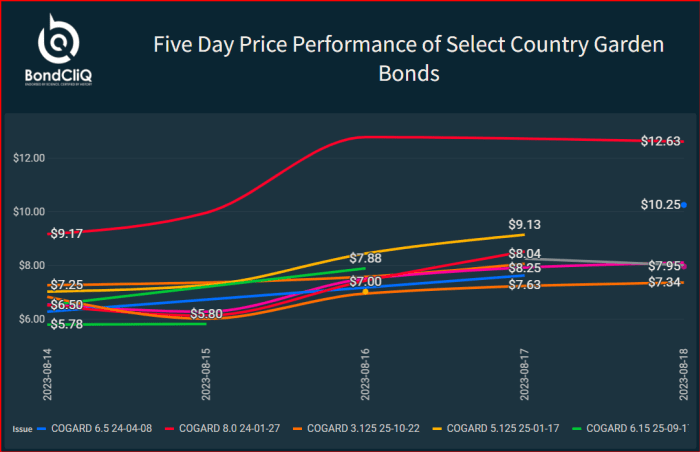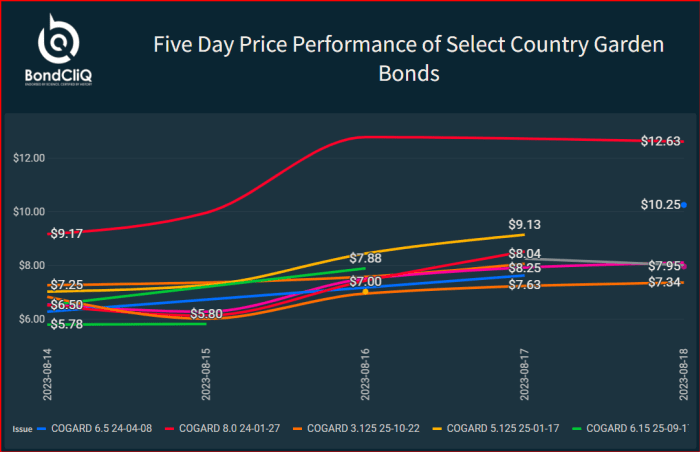 Country Garden will be replaced by China vaccine maker Sinopharm Group
1099,
-0.47%,
while Country Garden Services Holdings Co.
6098,
+1.86%
will be removed from the Hang Seng Enterprises Index, to be replaced by travel services provider Trip.com Group
9961,
-3.73%
TCOM,
-1.99%.
All changes will take place as of Sept. 4, the index provider said.
Sister companies Country Garden Services and Country Garden are both controlled by billionaire Yang Huiyan. Her father Yeung Kwok Keung co-founded Country Garden in 1992.
A government spokesperson cited by the Associated Press said Tuesday that regulators were working to right debt issues and risks were "expected to be gradually resolved."