Jurrien Timber looks a smart acquisition by Arsenal regardless of the positional plans for him. At 22, he has made over 200 appearances for Ajax, making more passes than any other player in the Eredivisie last season. This is a strong and composed defender.
Nevertheless, it has been striking that Arsenal have briefed the media of their plans to utilise him at right-back. Timber has operated in the centre for much of his career. His only start as a right-back last season came in a 4-0 international defeat to France.
But the move reflects a growing trend.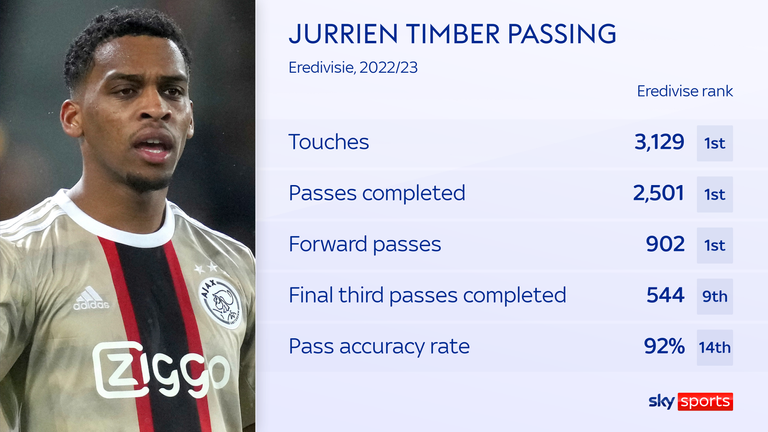 There has been a tactical shift in the Premier League and it has happened quickly. It was not so long ago that the logical evolution of the full-back role was expected to be very different. The trend was towards attack-minded runners marauding up the flank.
Gary Neville and Jamie Carragher would joke on Sky Sports about how the defensive full-back as they knew it was finished. Trent Alexander-Arnold and Andy Robertson represented the future, with Liverpool's attack built around their threat from wide areas.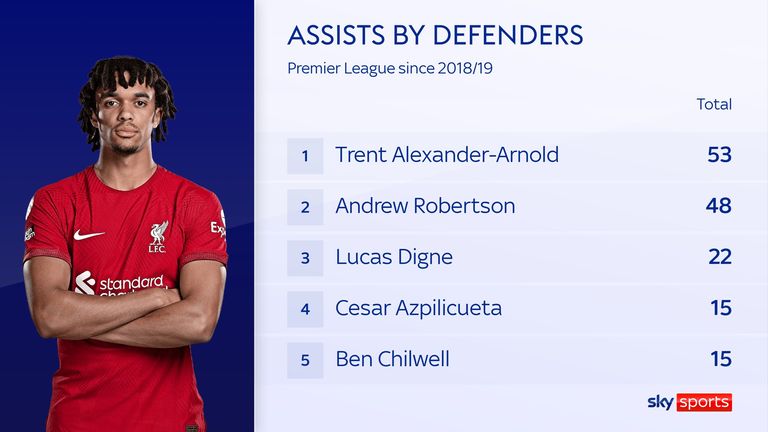 Now even the most celebrated full-back pairing in the land have had to make the adjustment. Alexander-Arnold's move into midfield mirrors that of Oleksandr Zinchenko at Arsenal. Manchester City have deployed various players in that hybrid role.
The man regarded as the pioneer of the inverted full-back has noted the change. "In the last 10 years the full-backs were very athletic, physical players," Philipp Lahm tells Sky Sports. "Now I think it has changed a little bit. There are more technical players."
But the impact of that full-back moving into midfield can be seen not just in the changing skill-set of the player asked to fulfil that remit but in the demands placed on the other nominal full-back in the team too. It has created the need for a Timber type.
At Liverpool, while Alexander-Arnold's positional change has been the more conspicuous, Robertson has found himself having to tuck inside and cover – a big change for him. "It has been a kind of back three. It is different, maybe a little bit more conservative."
Scotland's captain is good enough and experienced enough to adapt. But the cyclical nature of these changes mean that players like Neville, a full-back who could play centre-back, and Carragher, a centre-back who could play full-back, no longer seem so obsolete.
Sky Sports takes a deeper look into what Declan Rice can bring to Arsenal

The full-back that is asked to form part of a three-man defence while a member of the back four steps into midfield does not need to be able to cross the ball or cover 12 kilometres inside 90 minutes. They need to be able to defend the ball inside the penalty box.
Pep Guardiola was explicit about that when explaining City's title win. "The biggest step this year was that everyone in the back four was real, real proper defenders," he told Sky Sports. "Win your duel. In our box, win your duel. In the past, we did not have it."
It is why Nathan Ake was preferred to Joao Cancelo. It is why Manuel Akanji was used at full-back – whether on the left or the right – in some of Manchester City's biggest games last season, even preferred to Kyle Walker in the Champions League final.
"Pep Guardiola for years has had these incredibly attacking, diminutive full-backs that have gone into midfield or they have flown down the outside moving forward," Neville tells Sky Sports. "That has been changed in the last couple of months and there is a trend."
Former Manchester City defender Micah Richards quizzes Pep Guardiola on whether he or Gary Neville would have been able to make the move into midfield in the current side

It is natural that many of Guardiola's ideas about the game are shared by his former assistant Mikel Arteta. At Arsenal, Ben White, a central defender at his previous club Brighton, has been used to balance the team while Zinchenko joins the midfield line.
The signing of Timber would seem to confirm the plan to commit to that idea in future. In truth, White largely interpreted the role in a more traditional way, often overlapping Bukayo Saka, but this could see Arsenal revert to a more clearly defined three-man defence.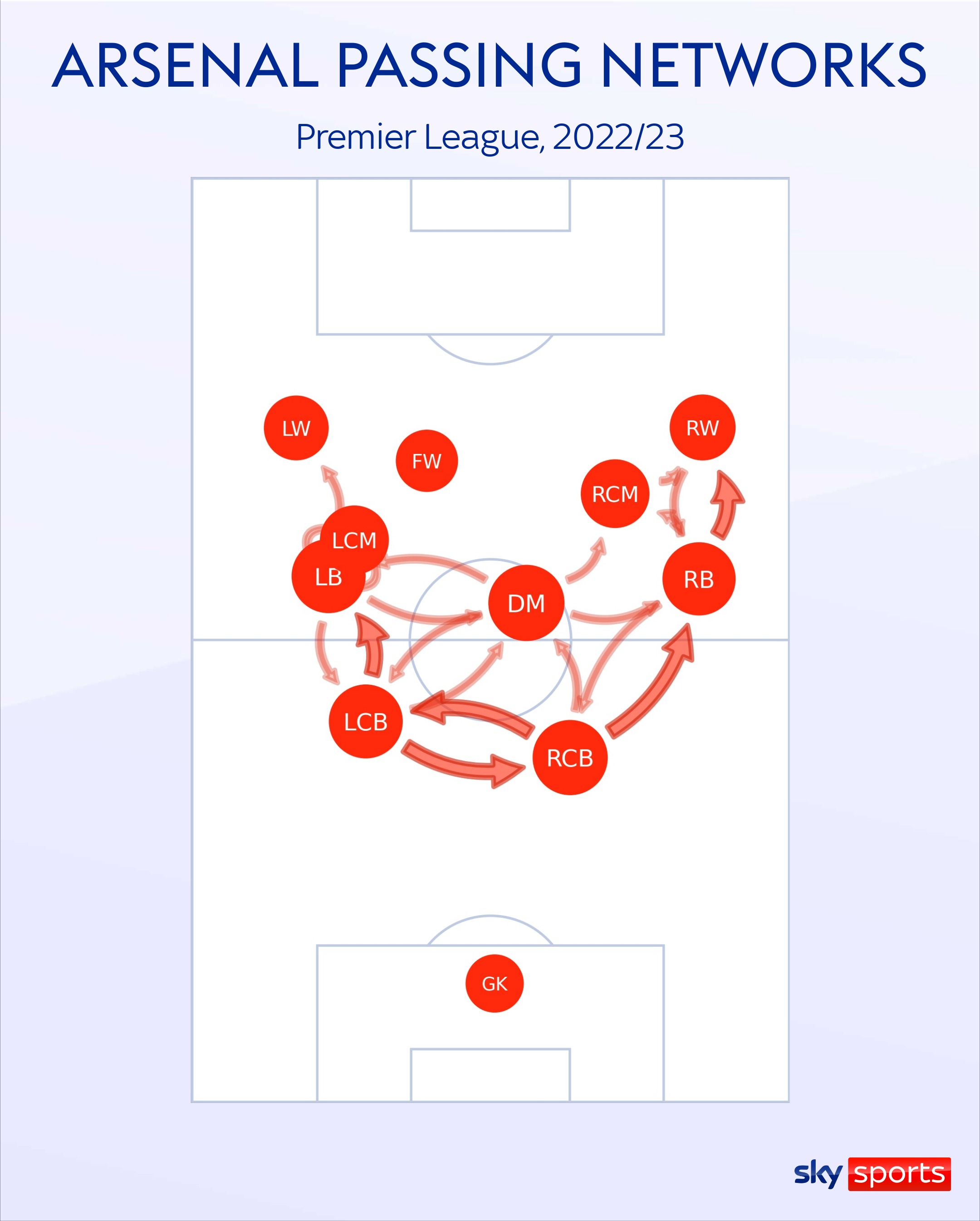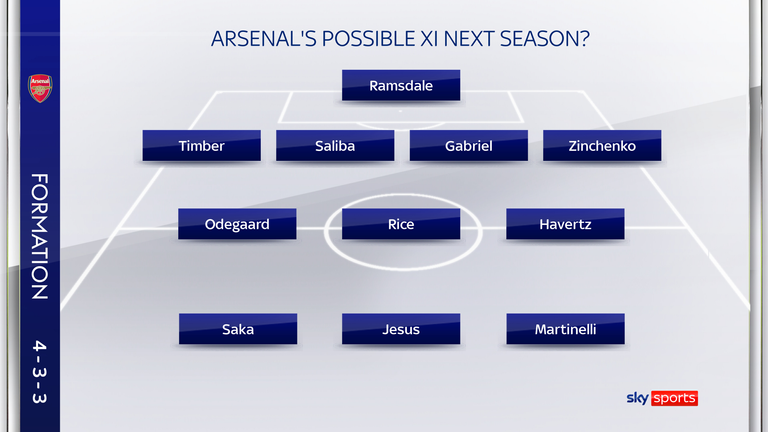 Perhaps surprisingly, the Gunners made more errors leading to shots than any other team in the Premier League last season – and more than twice as many as the other three teams in the top four. They were a little loose in possession, a little open on the transition.
In striving to improve, Arteta will have noted that. Timber has the versatility to cover the centre-back position, even to take on the responsibility to step into midfield himself. But expect this new signing to help provide the solution and the balance that is needed.
Jurrien Timber looks a smart acquisition. It could also be a symbolic one. A prime example of the changing profile of the modern full-back.