The Sportsman Club offers beer, darts and South Asian cuisine in the finest tradition of Britain's Desi pubs
The Sportsman Club, 13 High Street, West Bromwich B70 6PP (0121 553 1353). Starters £3-£10.50, mains £4.50-£10.50, desserts £2, beers from £3.80
Some people have too much time on their hands. One of them is a reader I'll call Ian, because that's his bloody name. Early in 2022 he sent me an ominous email explaining that he would be keeping a close eye on how many of my reviews were outside London in the coming year. On the second working day of 2023, he delivered on that delightful promise. He sent me an Excel spreadsheet of all my 2022 reviews. Just picture Ian, every Sunday morning, tongue gripped between teeth, making another entry, perhaps grinning with vindication over that review from Shoreditch, or slightly disappointed that I'd been to Swansea or Preston. Happily, for Ian, it all came good. Apparently only 52% of my reviews were outside London. Fair to say, Ian was very, almost performatively, disappointed in me.
My wife was outraged. "Does this man [she used another word] know how much bloody time you spend on trains?" No, I suspect Ian doesn't and nor, I imagine, does he care. In a perfect world, reviews would be geographically spread according to population. This is not a perfect world. For all that things have greatly improved, the spread of restaurants worth writing about isn't perfectly spread either. Once you subtract the nice but dull pubs serving menus of rib-eye steaks and lemon tart, the garden centre cafés offering "lite bites" and the intense bearded chaps doing nine-course tasting menus from reconditioned barns, celebrating nature's bounty – please, don't make me – there are still stretches of the UK with precious little to write home about, figuratively and, given my job, literally.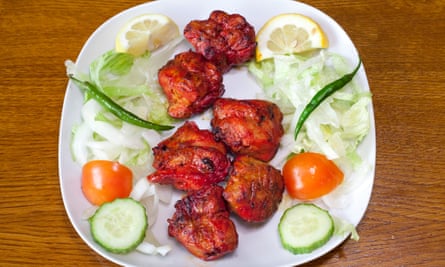 Add in the fact that these days, many don't open until Thursday evening, that I have an unpredictable thing called a "family life" and recently, that other thing called rail strikes, which are equally so, it can be complicated. I might point out that a review in, say, Aberdeen, while diverting for Aberdonians, may be less useful to a reader in, say, Stoke, than one in London because they are less likely to go to Aberdeen than they are to London. But that would just make Ian roll his eyes so forcibly, you could hear the balls scraping against the sockets from here. As the great Groucho Marx never said, these are my excuses. If you don't like them, I have others.
Anyway, I continue to travel, forever in the hope of finding the interesting and the good stuff. Which is why I have put my faith in this Avanti West Coast service to Birmingham New Street, and this rattling black cab skimming the edge of the city, to West Bromwich. I am here for the Sportsman Club, which is a Desi pub. The word Desi refers to the south Asian origins of these boozers. They first began to appear in the likes of west London, Leicester and here in the West Midlands in the 1950s. They served men from India, Pakistan and Bangladesh who, after partition, had come to the UK to work, often without their families. They were, and remain, third spaces; places where those men could get fed in a familiar and comforting way, amid the comfort of others. Now they sit right at the heart of the communities of which they are a significant part, open to all, knocking out heaving plates of the cheap and the cheerful, and bringing a beautifully precise extra dimension to British pub culture.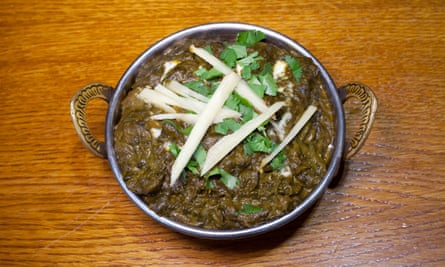 I found the Sportsman Club via Simon Carlo's ever insightful Meat & One Veg blog. It's not the prettiest of places. It's a big, airy modern pub built for maximum capacity, but there's no doubting its pubbiness. The local darts team's trophies are displayed at the front. There's a long bar with Cobra, Worthington's and Carling, among others, available by the pint. Get two of those for £7.60, a price that will make beer drinkers in other parts of the UK weep quietly. Come back to the bar to order your food from the long, laminated menu; a list of dishes mostly familiar from the British high-street curry-house tradition: think lamb bhuna and chicken jalfrezi, prawn masala and, being the West Midlands, baltis of various flavour, mostly priced between £7 and £10. Throw in a few samosas, bhajis, breads and biryanis. And chips. Go and wait with a drink in one of the booths in the huge, dimly lit dining room at the back. Visible off to the side is the kitchen, with its grills for the long list of kebabs.
There are two of us, so obviously we start with the huge mixed grill for three for £25.50, salad and sweet-sour chutneys included. We want to make our loved ones love us even more by carting home the leftovers. The star is the boneless chicken tikka, made exclusively from thigh. It may be a slightly vivid cartoon shade of red, but the skin is hot and crisp and the meat beneath that crunch is tender and juicy. There are bigger pieces of satisfyingly bone-in chicken tikka and a load of superbly crusty spiced chicken wings, blackened and seared. We are eating on a Monday, which is a shame because I suspect the lamb seekh kebabs were fabulous on Sunday. Ours are a little dry and tired.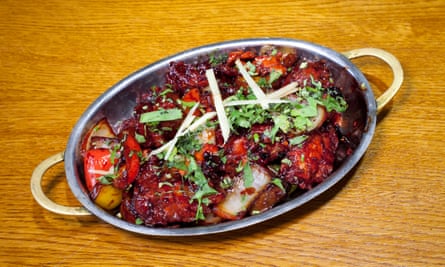 Move on. At the bottom of the menu is a list of chef's specials, including the Desi bakra lamb curry on the bone. Do not miss that. It's a wonder of thick, spiced ghee-rich gravy and bone marrow suckage, topped with fresh coriander and onion. The meat just tumbles off into the heavily spiced depths. Listed above that is the Indo-Chinese section, full of sweeter tones. I love the chilli fish, the fillets first crusted in gram flour and deep-fried to a crunch before being turned in the sauce. Saag aloo, the green of a churning winter sea, is a soothing, ferrous balm to the soul. We sweep away at it all with crisp, flaky pieces of hot plain naan, and its Peshwari cousin filled with sweet, fragrant almond paste.
Order fish fingers or chicken nuggets and chips for the kids if they find this proposition a bit much for now. Finish with a £2 scoop of ice-cream. Vanilla, chocolate or strawberry. Why, what were you expecting? Settle back into a brilliant place that's an effortless marker for true diversity. And then, having ordered cleverly, take home those leftovers. So what if your luggage is somewhat fragrant on the train back? You've won at lunch. Go on Ian, stick that in your spreadsheet.
News bites
The Trussell Trust, which runs 1,300 appallingly over-subscribed food banks, has launched a new restaurant tipping scheme to help raise funds. Until August each year restaurants can sign up for a month or more to add a £1 'Tip for Trussell' to diners' bills. The scheme was initiated by the team at Islington pub the Draper's Arms led by Nick Gibson. 'People shouldn't go without food in this country,' Draper says. 'We shouldn't have to do this but the industry feeds people. Kudos to charity Streetsmart which led the way.' Restaurants wishing to participate can do so via the Instagram account @atipfortrussell or by emailing nick@thedrapersarms.com
James Martin, whose full restaurant ventures have generally been positively reviewed in this column, is to open two new ventures at the Lygon Arms in the Cotswold town of Broadway from next month. It follows on from the restaurant and cookery school he oversees at Chewton Glen in Hampshire, sister hotel to the Lygon Arms. The new restaurants will be a grill room, serving various cuts of meat and fish, and a 'tavern' offering a menu of fancy sausage rolls, scotch eggs and hot pork pies. Visit lygonarmshotel.co.uk
Finally, and gloomily, research for the management consultancy company Begbies Traynor has found that nearly 20,000 hospitality business are under 'significant financial distress', a 36% increase year on year.
Email Jay at jay.rayner@observer.co.uk or follow him on Twitter @jayrayner1
Comments will open here shortly after 8am, thank you for your patience.