FIFA has extended Tottenham managing director of football Fabio Paratici's ban to worldwide activities.
In January, he was handed 30-month ban from carrying out activities within the Italian Football Federation – part of an investigation into alleged financial mismanagement at Juventus which saw 11 other officials banned and the club deducted 15 points.
The Italian FA asked for these bans to be extended worldwide – and FIFA have confirmed to Sky Sports News it granted this request, meaning a global ban from football activities for Paratici.
They said in a statement: "FIFA have confirmed that – following a request by the Italian FA (FIGC) – the Chairperson of FIFA Disciplinary Committee has decided to extend the sanctions imposed by FIGC on several football officials to have worldwide effect."
Tottenham's director of football Fabio Paratici claims Cristian Stellini can be a success in the closing stages of the Premier League season and suggests 'changing everything' at the club would be difficult for the players

Sky Sports News has contacted Tottenham and the Football Association for further guidance on what this means for Paratici and his role at Spurs.
Sky Sports News understands Paratici cannot conduct any transfer market activity directly – he cannot talk to agents nor negotiate deals, which is a fundamental part of his job as managing director of football – but he can work internally at Spurs, including attending meetings.
However, Sky Sports News are awaiting for official clarification of this – such as whether he can be involved in Tottenham's search for a new permanent manager following the departure of Antonio Conte.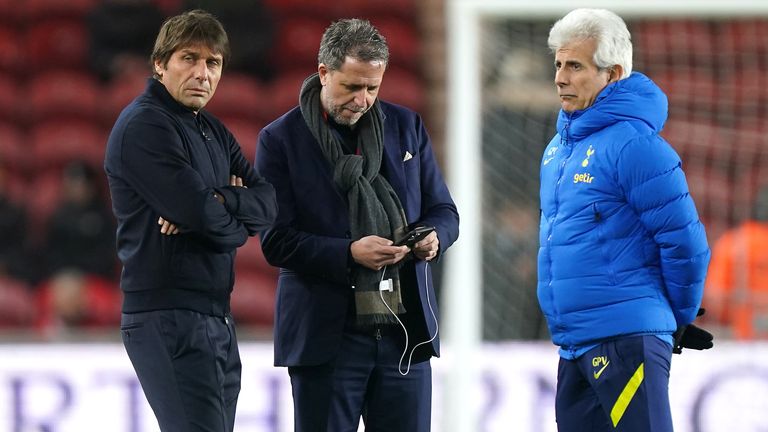 Paratici, Juventus and the other officials involved have appealed the sanctions – with the result of the appeal expected later in April, potentially 19. The ban is in effect even while this appeal to CONI (Italian Olympic committee) is going on.
Paratici and 11 other former Juventus officials may also face a separate criminal case – with a preliminary hearing, due to take place yesterday, was postponed until May 10.
Juventus, and the 12 officials – including Paratici – deny any wrongdoing.
On Tuesday, in an extended interview on the club's official website, Paratici described Conte's exit as "the right decision" and called on everyone at the club to focus on a successful end to the season.
The forward Heung-min Son said he was saddened by Conte's departure and feels responsible.
"As a player, I am really sorry," he said. "He's a world-class coach, and we had a great journey together. I should have played better. I feel responsible for his departure, because I haven't helped the club all that much."