Spain and Netherlands players have been filmed appearing to mock the Maori haka ahead of the Women's World Cup.
The tournament is set to take place in Australia and New Zealand, whose rugby teams perform a haka before matches, from July 20.
A video of four Spain players attempting the traditional dance briefly appeared on the national team's social media channels before being taken down.
The clip was taken during the team's first training session in Auckland on Saturday night, shortly after they had arrived in the country to begin their preparations for the tournament.
Last week, the Dutch national team also drew criticism for posting a video of a team member appearing to mock the haka on Instagram.
FIFA said in a short statement: "As this is a team matter we won't be making any comment."
What is a haka?
According to the New Zealand tourism website, a haka is a "ceremonial Maori war dance or challenge". It is usually performed in a group and represents a display of a tribe's pride, strength and unity.
The dance includes the stomping of the foot, the protrusion of the tongue and rhythmic body slapping to accompany a loud chant. The words of a haka often poetically describe ancestors and events in the tribe's history.
Haka in sport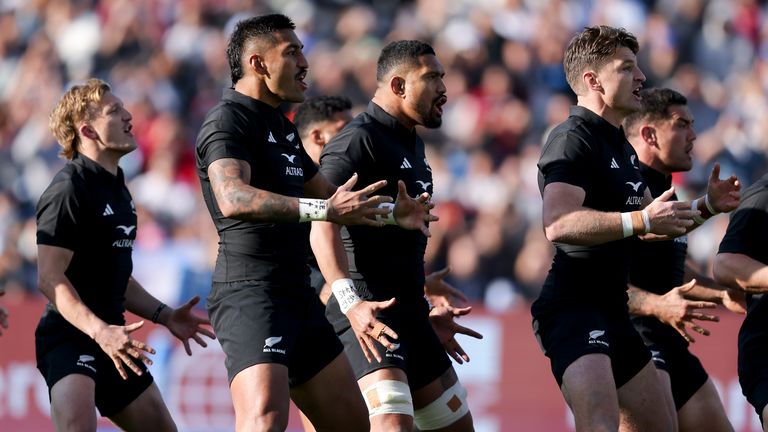 The New Zealand rugby team performs a 'Ka Mate' haka in front of their opponent as part of a pre-game ritual.
The Black Ferns, New Zealand's women's rugby team, are also famous for performing 'Ko Uhia Mai' haka which means 'Let it be known' and was composed by Whetu Tipiwai.
World Cup fixtures and schedule
All times UK BST
July 20
Group A: New Zealand vs Norway (8am)
Group B: Australia vs Republic of Ireland (11am)
July 21
Group B: Nigeria vs Canada (3.30am)
Group A: Philippines vs Switzlerland (6am)
Group C: Spain vs Costa Rica (8.30am)
July 22
Group E: USA vs Vietnam (2am)
Group C: Zambia vs Japan (8am)
Group D: England vs Haiti (10.30am)
Group D: Denmark vs China (1pm)
July 23
Group G: Sweden vs South Africa (6am)
Group E: Netherlands vs Portugal (8.30am)
Group F: France vs Jamaica (11am)
July 24
Group G: Italy vs Argentina (7am)
Group H: Germany vs Morocco (9.30am)
Group F: Brazil vs Panama (12pm)
July 25
Group H: Colombia vs South Korea (3am)
Group A: New Zealand vs Philippines (6.30am)
Group A: Switzerland vs Norway (9am)
July 26
Group C: Japan vs Costa Rica (6am)
Group C: Spain vs Zambia (8.30am)
Group B: Canada vs Republic of Ireland (1pm)
July 27
Group E: USA vs Netherlands (2am)
Group E: Portugal vs Vietnam (8.30am)
Group B: Australia vs Nigeria (11am)
July 28
Group G: Argentina vs South Africa (1am)
Group D: England vs Denmark (9.30am)
Group D: China vs Haiti (12pm)
July 29
Group G: Sweden vs Italy (8.30am)
Group F: France vs Brazil (11am)
Group F: Panama vs Jamaica (1.30pm)
July 30
Group H: South Korea vs Morocco (5.30am)
Group H: Germany vs Colombia (10.30am)
Group A: Norway vs Philippines (8am)
Group A: Switzerland vs New Zealand (8am)
July 31
Group C: Japan vs Spain (8am)
Group C: Costa Rica vs Zambia (8am)
Group B: Republic of Ireland vs Nigeria (11am)
Group B: Canada vs Australia (11am)
August 1
Group E: Vietnam vs Netherlands (8am)
Group E: Portugal vs USA (8am)
Group D: China vs England (12pm)
Group D: Haiti vs Denmark (12pm)
August 2
Group G: Argentina vs Sweden (8am)
Group G: South Africa vs Italy (8am)
Group F: Panama vs France (11am)
Group F: Jamaica vs Brazil (11am)
August 3
Group H: Morocco vs Colombia (11am)
Group H: South Korea vs Germany (11am)
Round of 16
August 5
Group A winner vs Group C runner-up (5am)
Group C winner vs Group A runner-up (8am)
August 6
Group E winner vs Group G runner-up (3am)
Group G winner vs Group E runner-up (10am)
August 7
Group B winner vs Group D runner-up (11.30am)
Group D winner vs Group B runner-up (8.30am)
August 8
Group H winner vs Group F runner-up (9am)
Group F winner vs Group H runner-up (12pm)
Quarter-finals
August 11
QF1: Group A winner/Group C runner-up vs Group E winner/Group G runner-up (2am)
QF2: Group C winner/Group A runner-up vs Group G winner/Group E runner-up (8.30am)
August 12
QF3: Group B winner/Group D runner-up vs Group F winner/Group H runner-up (8am)
QF4: Group D winner/Group B runner-up vs Group H winner/Group F runner-up (11.30am)
Semi-finals
August 15
SF1: Winner of Quarter Final 1 vs Winner of Quarter Final 2 (8am)
August 16
SF2: Winner of Quarter Final 3 vs Winner of Quarter Final 4 (11am)
Third Place Match
August 19
Loser of Semi-final 1 vs Loser of Semi-final 2 (9am)
Final
August 20
Winner of Semi-final 1 vs Winner of Semi-final 2 (11am)