Roop Kaur Bath must keep playing her natural game to fulfil her dream of playing at the highest level, says trailblazer Rosie Kmita.
Kaur Bath is the first Sikh-Punjabi ever to feature at senior level in a West Ham shirt, shattering a glass ceiling when Sky Sports News exclusively reported that she had played in a first-team friendly against Hashtag United over the summer.
The central midfielder, who played for QPR and London Bees at junior level, has attracted attention in recent months as she assesses her options ahead of the new season.
Broadcaster and ex-player Kmita, who was most recently at Watford, became the first professional footballer in West Ham Women's history when she signed a full-time deal with the club back in 2018.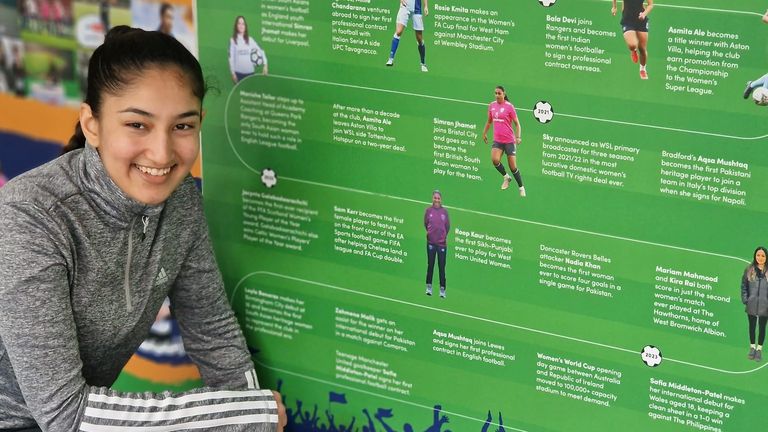 Kmita and Kaur Bath are both featured in the first-ever timeline and wider showcase documenting the journey of South Asian heritage female players in the modern English game.
Asked by Sky Sports News for some words of advice for Kaur Bath, Kmita said: "She mustn't overthink it. She just needs to take it one game at a time and continue to do the things that allowed her to get there and get into this position in the first place.
"If you start to overthink things then that applies pressure, and I don't think people perform well under pressure.
"She just needs to stay focused on her own game."
Kaur Bath was the mystery schoolgirl who left Sky Sports News viewers stunned back in March last year when she did almost 1,100 kick-ups for International Women's Day, aged just 14.
A British South Asian schoolgirl does 1,059 lockdown kick-ups for International Women's Day

After two spells with QPR, the Sikh-Punjabi central midfielder joined London Bees for the 2021/22 season, exclusively telling Sky Sports News at the time that she was keen to step out of her comfort zone and test herself in a new environment.
A Middlesex Centre of Excellence graduate, Kaur Bath was part of the Ruislip Rangers side that won the Capital Girls County Cup for the first time in the club's history. She also represented Middlesex at county level prior to joining West Ham.
The midfielder has previously worked with renowned talent developers Elliott Jealous and John Ryan, with former London Bees academy coach Ryan predicting a bright future for the youngster.
"She excels in her ball manipulation and has high technical ability," Ryan said.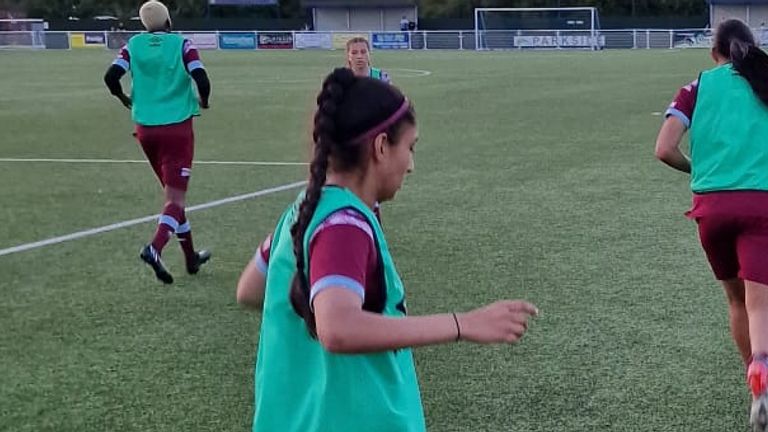 "She can always be trusted with the ball at her feet. She absolutely has the potential to go further in the game."
Rosie and twin sister Mollie have emerged as familiar on-screen faces in recent seasons, covering women's football across England's top two divisions.
The Dub hosts Mollie and Rosie Kmita broke down the first six goals Sam Kerr scored for Chelsea in the Women's Super League this season

The north London siblings spent six season playing together and Rosie now hosts The Dub alongside Mollie, offering news, rumours and insight into the women's game.
"I've had an amazing career and it's nice just to be able to say I made it to the pro game," Rosie added.
"I've been able to experience things that very few people have experienced before and it's nice just to be able to say I made it to the pro game.
"That's been huge for me, I've always wanted to do that, and that's something I can tick off my bucket list which is quite cool.
"It's nice just to be able to say I made it to the pro game. That's been huge for me, I've always wanted to do that, and that's something I can tick off my bucket list, which is quite cool. I love the game so much."
Mahmood commits future to West Brom
Mariam Mahmood will extend her stay with West Bromwich Albion Women by another season, Sky Sports News understands.
The 19-year-old's future had been plunged into doubt after the departure of head coach Jenny Sugarman, who left West Brom last month to pursue other projects.
But Siobhan Hodgetts stepped up from the coaching staff to replace Sugarman, and has been joined by former West Brom player Abbie Hinton, with the pair both having worked closely with Mahmood since her early teens.
That is understood to have reassured former England Colleges international Mahmood that West Brom remains the best place for her to develop as a footballer.
British South Asians in Football
For more stories, features and videos, visit our groundbreaking South Asians in Football page on skysports.com and South Asians in the Game blog and stay tuned to Sky Sports News and our Sky Sports digital platforms.