Away from the tourist hotspots, this popular Aegean island still has plenty of magic
Lunchtime in Apollona, a small village situated in the khaki-tinged hinterland of Rhodes, and all is quiet – save for one terrace set on a small side road above the houses. Here, a mix of locals and visitors sit around wooden tables, on which half-drunk carafes of wine, platters of roasted meats and feta-freckled salads are placed next to bowls of homemade bread. Between the tables, a stout man in an apron bustles around, explaining dishes, telling stories and pouring the wine he sources from friends' vineyards on the island. This is Giannis, owner and creator of the taverna, Paraga, and a man consumed by a passion for the rich foodie heritage of Rhodes.
Lunch begins with three types of bread and an aubergine dip thick with sesame and yoghurt. Many of Paraga's recipes have been handed down through the generations. Our main course, a rich beef stifado, has been cooked in clay since the morning, giving Giannis a wonderfully theatrical moment of gently cracking open the ceramic pot to reveal an unctuous stew, served alongside succulent, stock-soaked potatoes. We eat gluttonously, gazing out over the lush green hills, holm oaks and Italian cypress popping up between the silvery-grey olive groves and spindly vineyard lines.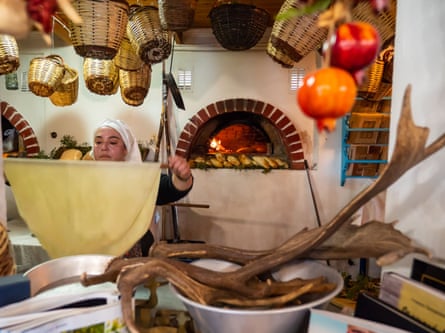 Apollona is just one of dozens of villages that dot the hills and valleys of inland Rhodes, many linked by walking trails and home to traditional tavernas or quiet village bars. These peaceful hamlets are perfect for spring breaks, when you can spend your days walking and exploring rather than avoiding the heat. This area also offers glimpses of a very different island to the built-up coastline. One of the first Greek islands to embrace mass-market tourism, Rhodes is known primarily as a family-oriented fly and flop – sun, sea and sand with a good dollop of Greek history on the side. But it's earlier on in the season that can be the prettiest time to visit.
Our base for the first few days is the newly opened Elissa: a slick, minimalist-designed hotel set on the small curving beach at Kallithea, around 10 minutes' drive from Rhodes town. Like much of the Rhodes coastal strip, Kallithea itself feels a little faded, but we follow a recommendation from the concierge at the Elissa and hop in a taxi for dinner to the small village of Koskinou, a couple of kilometres inland.
What's surprising about Rhodes is how it changes within minutes of leaving the coast. We arrive on Koskinou's picturesque main square, where a small, brightly lit café is filled with men sipping thimbles of coffee while a gaggle of small boys hoofs a football against the nearest wall. A sign for the Tasos taverna leads us into a tangle of cobbled alleyways, where low-slung, whitewashed houses are draped in great swathes of tangerine and plum-hued bougainvillaea. It seems impossible that the bright lights and bustle of the coast are just five minutes' drive away. As we settle in for heaped plates of smoky chicken, garlicky tzatsiki and sumptuous, honey-drenched baklava, it feels as if we're on a different island altogether.
The next day we set out to discover some of the island's famous sights – the Roman streets of Rhodes old town, the historic fortress and the famous spa at Kallithea Springs. All are packed with visitors, so much so that it's a relief to get back to the Elissa's tranquil pool.
Later, over cold Mythos beers, we pore over an old-fashioned road map and plot a route for the following day, taking in several inland villages en route to our second hotel near Lindos.
Fortunately, driving in Rhodes is easy and unchallenging. The roads are quiet and built to accommodate the day-trip coaches and Jeep safaris that appear even in the quietest backwaters. And there's plenty to see, including hundreds of religious buildings – mosques, churches, chapels and monasteries – each giving a glimpse of the island's tempestuous history, whether Roman or Byzantine, Ottoman or Italian. We stop at Tsambika, a tiny Byzantine monastery perched at an altitude of 240m. The 350 steps prove challenging, but the 360-degree vista of the island's crystalline beaches and lush green heartland is more than worth the effort.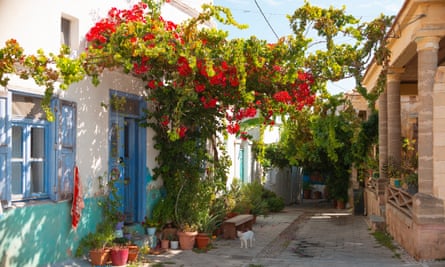 The south of the island proves to be quite different from the north, the continuous sprawl of big resort hotels slowly breaking up to reveal the long arc of beach at Vlycha Bay. We settle into our room at the Lindos Blu – an architect's dream of a hotel, with rooms and terraces stepping down the hillside – and gaze out towards the jagged mountains across the bay, their craggy outlines like vast, sleeping alligators half-buried by the sea.
The big draw at this end of the island is the historic town of Lindos but, when we visit, the cobbled streets are packed with cruise groups and excursions, and we quickly escape back up into the hills to visit the isolated village of Embonas, said to be the most traditional on the island. It's a little more touristy than we expected, but still has an authentic charm, with several wine caves, tavernas and shops selling locally made baskets, rugs and linens, along with knitted slippers with huge pompoms on the toes which I am completely unable to resist. On the way back, we take a short diversion to the small resort of Pefkos, for a visit to the crystal-clear waters on Lee Beach.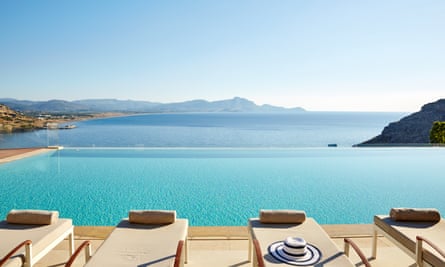 On our final day, we fit in one last village visit with an early lunch at Lardos, just a few minutes' drive from our hotel. Like Koskinou, it feels a world away from the frenzy of tourist buses and excursion groups at Lindos. Instead, it's full of the slow-paced charm at which the Greek islands excel. We watch the gentle comings and goings on the leafy main street and agree that for all the ancient sites and long, sandy beaches, it's in the quiet inland villages where the heart of this historic island really beats.
Annabelle Thorpe travelled with the Greek tourist board (visitgreece.gr), staying at
the Elissa (doubles from £193 B&B; ellaresorts.com) and the Lindos Blu
(doubles from £226 B&B; slh.com)