Paris Saint-Germain believe Kylian Mbappe has already agreed to join Real Madrid on a free transfer next summer.
Mbappe was sent a letter by PSG on Monday making it clear he would be sold this summer unless he agrees to extend his contract before the end of this month.
If he does not extend, PSG will sell him as quickly as possible to the highest bidder – and they do not care where he goes.
PSG CEO Nasser Al Khelaifi says the club will not let Kylian Mbappe leave for free next summer, insisting the forward must sign a new contract this window if he wants to stay

There will be no emotion and any potential transfer would be purely transactional.
In the past it has been thought that PSG would prefer not do business with Real Madrid, but if Mbappe does not extend his contract, they will sell him to anyone who can afford to buy him.
The asking price is likely to be about £150m.
In Monday's letter, PSG told Mbappe his decision not to extend his contract has caused the club enormous harm.
They urge him to extend his contract "to help the club that has helped you and your family".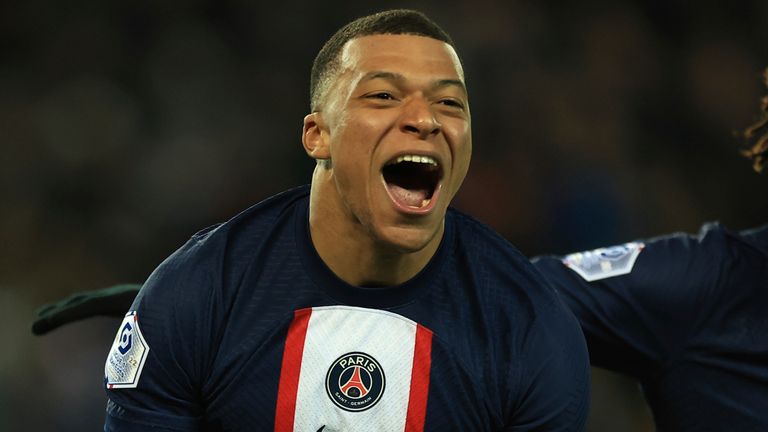 On Wednesday, speaking after unveiling Luis Enrique as the club's new manager, PSG president Nasser Al-Khelaifi said: "My position is very clear. I don't want to repeat it every time: if Kylian wants to stay, we want him to stay. But he needs to sign a new contract.
"We don't want to lose the best player in the world for free. We can't do that. This is a French club.
"He said he would never leave for free. If he changes his mind today, it's not my fault. We don't want to lose the best player in the world for free, that's very clear."
Analysis: Battle of wills between PSG and Mbappe
Sky Sports' Kaveh Solhekol discusses Kylian Mpabbe's future as he faces an ultimatum on whether to remain at Paris Saint-Germain or pursue a 'dream move' to Spanish giants Real Madrid

Sky Sports News chief reporter Kaveh Solhekol:
"The PSG president has been very clear, he said the club want Kylian Mbappe to stay but he has to sign a new contract. If he doesn't, they will be forced to sell him.
"Mbappe's contract runs out next summer and there is the option to extend by another year, which the player has turned down.
"PSG are saying they cannot afford to lose the best player in the world for nothing next summer. They know he wants to go to Real Madrid – he's looking to run down his contract and leave for Madrid on a free transfer, meaning PSG would get nothing.
"Mbappe himself would get a signing bonus, even bigger wages, and probably a loyalty bonus from PSG. As far as Al-Khelaifi is concerned, that cannot happen. We've got a battle of wills.
"Is this just a negotiating tactic from Mbappe and his camp, and he will stay?
"Or are Real Madrid being discreetly clever by saying they aren't going to make any more signings in this window, and come in for Mbappe at the end of the summer?"