Published in the UK for the first time, the Empire of Pain author's tireless investigation of human trafficking from China to the US reveals the desperation of the migrants and the woman at the heart of it
In 1993, a cargo ship called the Golden Venture ran aground on a sandbar off the Rockaway Peninsula in New York. The ship, which had set off four months earlier from Bangkok, had stopped in Kenya and rounded the Cape of Good Hope to reach America. It carried a desperate cargo: 286 undocumented people from Fuzhou in China, who had made the voyage in the clothes they stood up in, without any kind of adequate sanitation on board, and little food or water. With the ship stranded offshore, most of the migrants, stick-thin and delirious, jumped into the freezing sea – it was 2am – to try to reach the promised land, the lights of Coney Island visible across the bay. Ten people drowned, the rest were picked up by the quickly scrambled authorities on the beach to be held in various prisons, some for four years, while they sought asylum. About half were eventually deported.
The New Yorker investigative journalist Patrick Radden Keefe used that tragedy as the embarkation point for his landmark "deep dive" into the criminal underworld that brought – and brings – vast numbers of Chinese people to the US. The going rate at the time of the Golden Venture tragedy was about $18,000, paid to people smugglers or "snakeheads". At the heart of this trade was a woman, Sister Ping (real name Cheng Chui Ping), who ran a shop, the Tak Shun variety store, in Manhattan's Chinatown. Sister Ping, who had grown up during the Cultural Revolution and first come to New York to work as a nanny, was responsible for bringing at least 3,000 people from Fuzhou to America, making herself a fortune of $40m. When she was eventually apprehended by the FBI in the millennium year, she was described as perhaps "the most successful alien smuggler of all time". It was Sister Ping who, a rival gang leader and FBI informant alleged, commissioned the Golden Venture.
Radden Keefe's book unravels the full story of Sister Ping's operation, the barely credible business of human transport, and its links with murderous gang warfare in Chinatown and beyond. When it was first published in America in 2009 – this edition marks the first UK publication – it seemed to tell a new kind of true crime, one that transcended borders and boundaries, a tale of globalisation, the untraceable movement of capital and people, and the losing struggles of law enforcement agencies to keep up. Since it came out, Radden Keefe, who trained as a lawyer before he became a journalist, has made his name with this kind of investigation. His book Empire of Pain, about the Sackler family and their role in the opioid tragedy that has devastated whole swaths of American society, won the Baillie Gifford prize in 2021 (and was the basis for Laura Poitras's documentary, All the Beauty and the Bloodshed, released last week).
As with that title, there is an indefatigability here about Radden Keefe's approach to storytelling. You feel the weight of evidence in every paragraph. This book is based on more than 300 interviews with "FBI agents, police officers, immigration investigators, attorneys, White House officials, Golden Venture passengers, Chinatown residents and community leaders and individuals who work in the snake head trade". Even Sister Ping corresponded with him – after asking "what's in it for me?" – from the high-security Texan prison in which she eventually died, aged 65, in 2014.
Through this accumulation of witness statements and detail the book builds a vivid insight into the ruthlessness of the people smugglers and their sense of destiny. Sister Ping was feted as a Robin Hood figure, a "living Buddha" in her home city of Fuzhou. The villagers of Shengmei, her birthplace, followed every day of her trial in the news; some volunteered to do jail time on her behalf. This wasn't simple naivety. Sister Ping's criminal trade had a tangible byproduct. Through hopes of getting abroad and monies sent back home, it lifted a whole generation of young local people out of the grind of dollar-a-day poverty. Justin Yu, a journalist in Chinatown, was also covering legal proceedings alongside Radden Keefe: "In China," Yu wrote, "a human life isn't worth 10 pennies. Ten thousand people come and 100 people die? Bad luck. If they make it, their families get rich. Their villages get rich."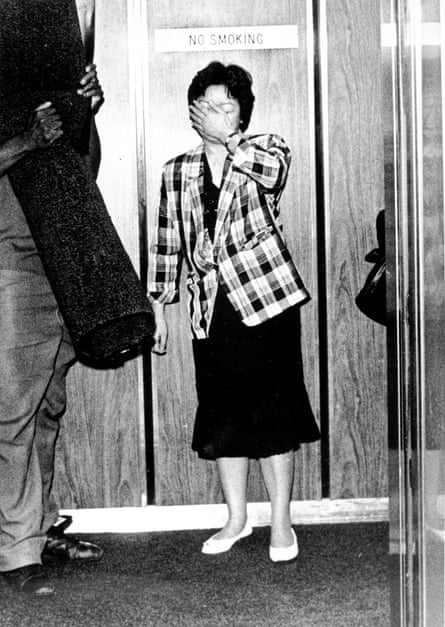 By the time Radden Keefe visited Fuzhou and Shengmei in 2008, this risk and reward equation was already changing. The newly booming Chinese economy was offering young villagers the chance to improve their lives at home rather than risking it in the hold of a cargo boat on the high seas. As a result, the element of this story that Radden Keefe's account never quite brings to life is the unfathomable ambition, the desperate need, that causes people to take their current life in their hands for the hope of a better one.
As his account makes clear, the promises that Sister Ping made were brutal and sometimes fatal, but they were not empty. The stinking hold of the cargo ship represented a better possibility than other futures. At a time when our newspapers are full of stories of people smuggling, this book is a reminder of the element of that tale that is too easily overlooked: the absolute determination of the people who temporarily sell their fate to the criminal gangs. As Radden Keefe's book implies, those people will ultimately not be deterred by legislation or law enforcement. Sister Ping was a facilitator, not a driver of that ambition. Her "clients" were among the most resourceful individuals on the planet. Most of those people originally deported after the Golden Venture tragedy, writes Radden Keefe, eventually found a way to return to New York.
Some of those ultimately granted leave to stay, who fought their cases for four years in American jails, were gathered together for a documentary in 2006. They never got to see one another, they joked, because they were all so busy working. Michael Chen, a spokesman for the survivors, ran a restaurant in Ohio. "We have been out of jail for 10 years," he said. "We have all started businesses and families and paid taxes." The four-month hell of the journey, the ransoms paid to Sister Ping, the near fatal jump into the icy waters of Rockaway Bay, had on balance all been worth it. They had arrived.