Istanbul is a beautiful city. Turkey have incredible stadiums and fan culture. But the Champions League final should not have been held at the Ataturk Stadium. It was not fit for purpose.
Yet again the Champions League final was very disorganised.
The big story was that Manchester City won the treble but something else was going on in the background.
It was a miserable experience for most of the supporters. Of course it was an exciting evening for City fans but they'll also remember the problems.
I can't remember the last Champions League final I went to that was was enjoyable and well organised. I'm going as part of my job, not to have fun – and I'm finding it an ordeal. So, I have sympathy for those fans spending thousands of pounds to attend these events and UEFA aren't thinking about them.
They are seen as part of the show to add atmosphere so it looks good on TV. However, for the fans it is poor value for money. It is an ordeal.
UEFA have to think about the supporters. The supporters' safety, wellbeing and enjoyment have to be considered.
Why was it such a miserable experience?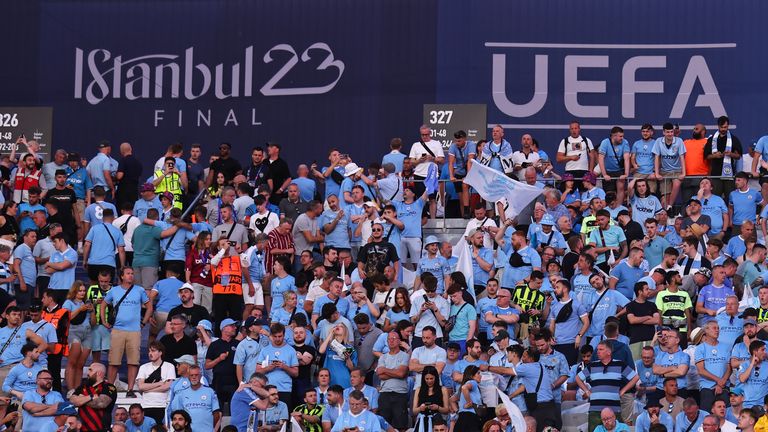 Man City fans were told not to use taxis or the metro and use shuttle buses to access the stadium which was 12 miles out of the city centre. The advice was to get there up to nine hours before kick-off. There were waits of up to two hours to get on the buses and you weren't allowed any water when on the buses. Once on a bus you could've been stuck on there for three hours – it was only supposed to be a 20-minute journey but the traffic was so bad.
People were getting out of the buses and walking along the motorway. Some were getting distressed.
Once you got to the stadium, there was supposed to be a fan zone but it was just a couple of concessions and not many toilets. There were queues of up to 90 minutes to get some food or drink – the same to use the toilets.
Fans that left the stadium at 1am were yet again met with massive queues for the buses and huge amounts of traffic.
People were paying up to £200 for a taxi that usually costs £20. It didn't matter who you were, even if you were a VIP, you were getting stuck in traffic. Why do UEFA not consider having any provisions around them for food or drink? It's because it's all sewn up by their cooperate sponsors – you can only buy their beer or their soft drinks.
There is not enough choice for food or drink and not enough toilets.
UEFA need to learn the lessons. Every year they say they do but it's got to the stage where I don't want to go to a Champions League final. And I know lots of City supporters who didn't go as they'd been told by Liverpool fans about what happened in Paris.
And, the next final is at Wembley. We can't pat ourselves on the back and say there will be no problems. We all know what happened at the Euro 2020 final.
Serious questions need to be asked and put to UEFA over the organisation of these finals.
UEFA have been contacted for comment.