This is the digital version of The Bounce.
If you want it earlier, start every day with The Bounce delivered to your inbox. Sign up here.
Is "Above the Rim" a top-five basketball movie of all time? Discussion below!
To The Max Meter
Measuring Jaylen Brown's extension
Jaylen Brown's new contract with the Celtics marks the biggest deal in NBA history. That's right! It's $304 million over five years with the supermax designation, and the clickbait/engagement-bait headlines immediately expressed disbelief over Brown earning such a distinction. Hey, Mike Conley Jr. briefly held the title in 2016.
And it's going to keep happening every year. That's how rising salary caps and Monopoly money work, my friends. Recently, Mike Vorkunov wrote a really smart piece about how we should now discuss contracts as a percentage of the cap, not a dollar amount.
He's absolutely right about that being the smart way to discuss this. But it's honestly not fun either. Nobody is going to walk around yelling, "he's not worth 35 percent of the cap this season!" It's not happening, Mike.
Maybe, instead of percentages or Monopoly money, we should start viewing these in the context of The Max Meter.
What's The Max Meter? I'm so glad you asked! It's incredibly scientific. It would take too long to explain, but in Jake Layman's terms, it's based on whether or not I think it was necessary to give that player the max. It operates on a scale of 1-10. Here's an example of some spots on the scale:
1: Tobias Harris, Philadelphia | Five years, $180 million: A head-scratching contract at the time for a good player, but not someone you'd deem max-worthy.
3: Zach LaVine, Chicago | Five years, $215 million: Very talented player, but throwing a max at him as one of your two best players greatly lowers your team's ceiling.
4: Bradley Beal, Washington | Five years, $251 million: Crazy talented, but it felt like the Wizards had to do it, even without the guarantee of winning. And now they've already moved on.
8: Tyrese Haliburton, Indiana | Five years, $207 million: Franchise guard for them, but an All-Star appearance next season pushes this to $260 million.
10: Nikola Jokić, Denver | Five years, $270 million: Duh.
As for Brown, who is only 26 years old, I think he's solidly at a 7 on The Max Meter. Boston had to do it and couldn't just lose him at some point for anything less than a dollar on the dollar. He's really good on both ends. But there are obvious limitations with his game currently.
WATCH: Andrew Schlecht and Dave DuFour break down Brown's deal.
Let's tag in Shams for some news.
---
The Latest From Shams
Good news for the James family
USC freshman Bronny James has been discharged from Cedars-Sinai Medical Center after being treated for cardiac arrest earlier this week. He arrived to the facility fully conscious and neurologically intact.
The 18-year-old James spent less than 48 hours in the hospital and is now home resting. He collapsed on the court Monday.
On Thursday, his father and the NBA's all-time leading scorer, LeBron, shared his gratitude for the outpouring support of his eldest child and family.
"I want to thank the countless people sending my family love and prayers," James wrote on Twitter on Thursday. "We feel you and I'm so grateful. Everyone doing great. We have our family together, safe and healthy, and we feel your love."
Back to you, Zach.
---
Running The League
Trade demands to blame?
Plenty of people are annoyed by the trade demands, and the waiting game that follows, with Damian Lillard and James Harden. You can add 11-year NBA journeyman Austin Rivers to those frustrated with the current system:
"If you were a free agent, then you could choose where you're gonna go. That's the business. But when you're not and you sign a deal, man, that's part of the business, bro. If you get traded somewhere, like, you gotta go play, man. This started with James [Harden] and Ben [Simmons] and all these guys doing this s—. It's bad for the league…
"It's a scary dynamic when stars start acting like this."
Rivers also says he's a big fan of Lillard. You may remember him praying during Game 5 of a first-round series against Portland when Dame missed a shot in double-OT – a game Denver won despite Lillard's 55 points, 12 3s and 10 dimes. But he wondered if guys like him just don't have to show up because they're good, until they get the destination they've requested/demanded.
Rivers also went on to lambaste the current Collective Bargaining Agreement that just went into effect. Though it seems like teams are more hesitant to offer mid-level deals, agents find a way to take advantage of owners after a little adjusting to any CBA. Rivers said players now seemingly make either $50 million or $2 million. 
Hyperbole aside, Rivers has a bit of a point here. Player empowerment is great, but we need to recognize that it's primarily star player empowerment that exists. And it'll take some time for the lesser role players to find a way into that middle class again. We're also mostly just bored waiting for these major trades to happen.
Bounce Passes
Mike Gorman, voice of the Celtics, is calling one final season in Boston.
Thirty years after Reggie Lewis' tragic passing, Jason Jones remembers him.
Read Eric Koreen on how the Raptors will try to replace Fred VanVleet's 3-point volume.
Keep an eye on these up-and-coming executives you'd want running your team.
Movie Review
Last week, we examined the movie "Eddie" for our basketball movie reviews. This week, we're tackling the 1994 hoops hit "Above the Rim," starring Duane Martin, Leon and Tupac Shakur (RIP).
Let's dive into the movie and see if it's worth your time:
Any real hoopers in the movie? Duane Martin played Division III basketball and signed with the Knicks briefly in 1989, but he never played for them. Wood Harris played high-school ball. That might be it. Leon can play some. 6/10
How's the story? It's a fun story about budding New York City point guard Kyle Watson (Martin) navigating recruitment while dealing with a rough element in the city. Does he want to get caught up in the glitz and glamor of playing for a bad guy (Birdie, played by Shakur), or will he stay true to his coach and a possible mentor in Shep (Leon), who is Birdie's brother and has returned?
And he has to endure watching his single mom start dating a security guard. 9/10
How's the basketball? It's really solid because Martin knows how to handle the ball. However, there are some massive editing and continuity errors (more in a bit) that distract in the basketball scenes. 8/10
Is the lead believable? Definitely. He's charming, he doesn't look too old, can really play and he's a pretty good actor for this role. 9/10
Least believable moment: Due to horrendous editing, a man throws himself a full-court pass for an in-game dunk, like he's Nelson Muntz playing football!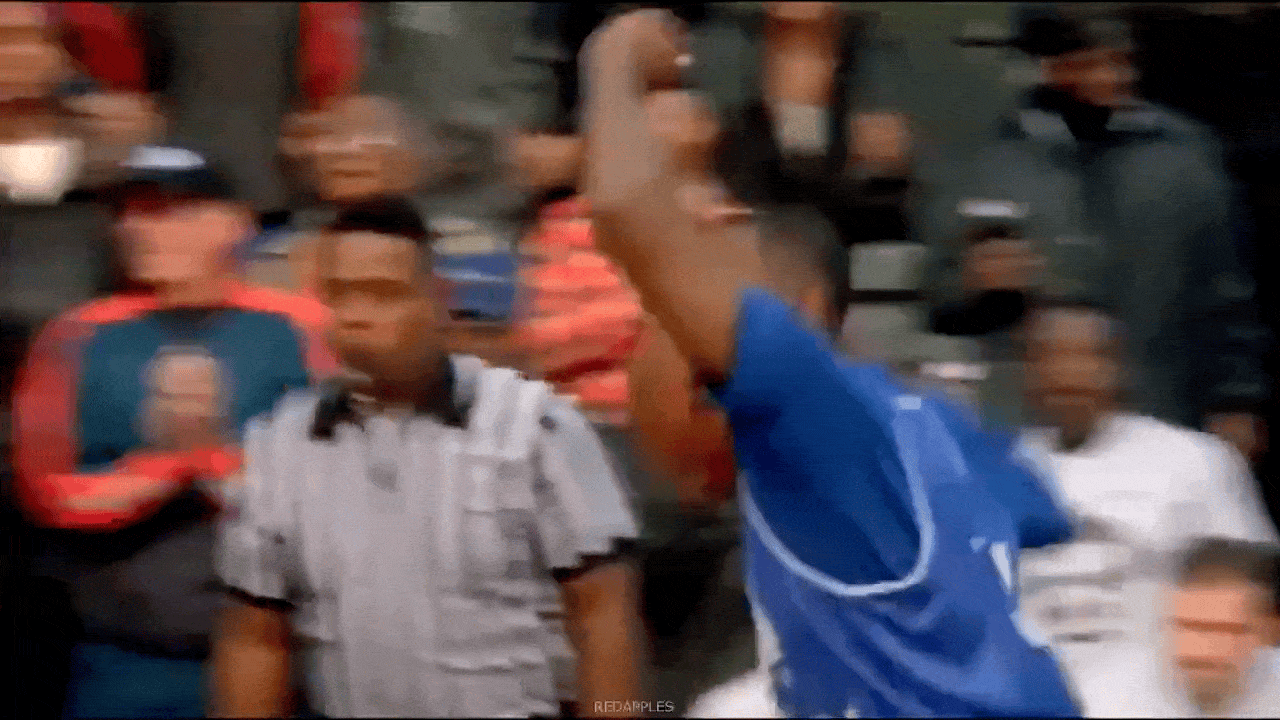 We also can't forget the infamous Nutso death scene at the beginning of the movie. Why would anybody ever put a basketball hoop on a roof right next to the ledge? How many basketballs went plummeting? Or… you know… people…? 1/10
Does it have truly memorable moments? Shep playing ball without a ball is an all-timer. Him teaching Kyle to spread his fingers and snap his wrist on his jumper helped countless young kids. And "Regulators" by Warren G and Nate Dogg was on the soundtrack. It's too perfect. 10/10
Would you watch it again? I watch this movie like five times a year, so yes.
Final verdict: I don't care about the continuity errors. This is an all-time banger of a basketball movie.
/5
Hoops Movie Ongoing Rankings:
2. Eddie (1996)
1. Above the Rim (1994)
(Top photo of Jaylen Brown: Brian Babineau / Getty Images)