Marrakech expressed: turning an old farm into a light-filled home
A couple of French designers, helped by their son and two donkeys, have transformed a Moroccan chicken farm into a stunning family home
When French fashion art director Julien Tang met photographer and model Cyrielle Rigot in Paris, she was "longing for new air and far-flung adventures". "Marrakech awaited us," says Julien. Shortly afterwards, in 2014, the couple transformed a 16th-century townhouse in Marrakech's medina into Riad Jardin Secret, an hôtel particulier. Once home to Yves Saint Laurent, who entertained his young lovers there, the house conjures up a 1970s Hideous Kinky design appeal.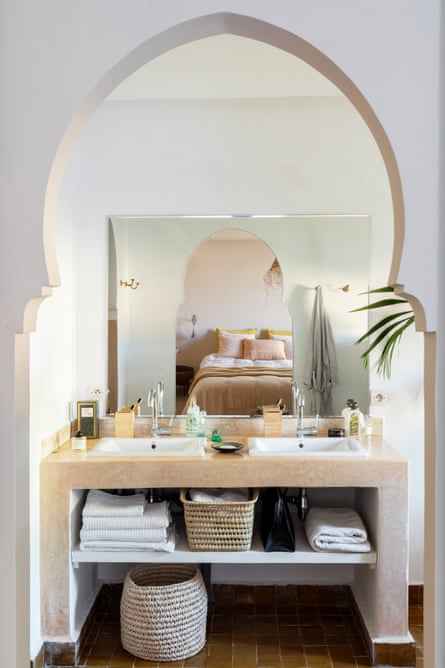 Today, the couple also run an interior design studio specialising in a crafted, authentic aesthetic with a contemporary twist in their family home, a former chicken farm 25km outside Marrakech.
Like all their creative projects, transforming the poultry farm was a joint effort. "Since our first collaboration, all our projects have been drawn with four hands," says Cyrielle. "Julien and I share everything and do everything together." They think alike, too. "When we arrived, a donkey lived here, all alone, and we both knew how much a donkey needs company." They went straight to the local donkey market and bought a female companion, since christened Kawa by their young son, Nino. The donkeys share their home with two dogs and a cat.
"We wanted to create a family house that was functional," says Cyrielle. "It was important to have one space for daytime, where the whole family can be together, and a large space where we can keep an eye on Nino while we are cooking."
Natural light was also a priority, enhanced by a use of Moroccan architectural features, such as arched windows and ornate metalwork. The windows and door openings allow the house to be bathed in light from sunrise to sunset. "Living surrounded by light and plants is essential for us," says Julien.
The open-plan space leads to a landscaped garden full of large cacti – some almost as tall as the house – and grasses. Nino has an outdoor play area beneath a thatched lean-to in the outdoor dining room that overlooks the pool. "The weather is nice here," says Cyrielle, "so it seemed natural for us to create a safe, shady place for Nino outside."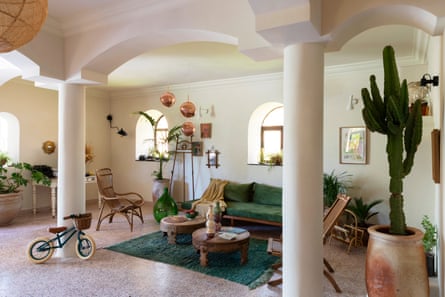 "We like to have lots of plants, trees and flowers nearby," says Julien. "Nature plays a vital role in our wellbeing. We created everything in the garden: when we arrived, there was nothing."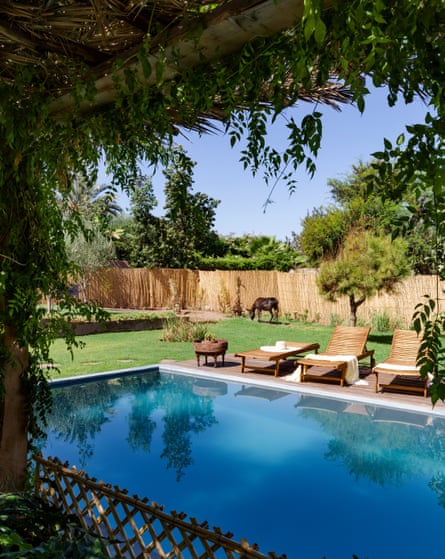 'The theme is inside-outside," says Cyrielle, the aim was to use nature "to create a serene atmosphere". She never goes anywhere without her secateurs, including when the pair take their motorbike out. "It is a habit I got from my godmother. I like to bring back memories. I dry my treasures in my workshop, then make bouquets from them."
The house is a "place of sharing and relaxation". Earth tones create warmth and calm while luminous shades catch the light. It's all offset by flashes of colour, including a custom-made green velvet sofa in the living space, designed by Cyrielle and Julien and made by their team of local craftsmen; a 3m-long yellow concrete desk in their workroom, where their dog is a frequent guest; and yellow outdoor dining chairs, found in the countryside around Marrakech.
"We love to be surrounded by the objects that we have been collecting for decades, found during our trips or hours lost in flea markets in Morocco," says Cyrielle. Texture in the living spaces is "not left to chance": rugs, glass and huge earthenware flowerpots housing grasses and cacti provide focal points. In the main bedroom, a waxed, dust-coloured concrete floor works with whitewashed walls. Tadelakt, a lime-based plaster with a natural stone effect, is used on the bathroom walls for softness and depth, while handmade zellige tiles in caramel add pattern and texture on the floor.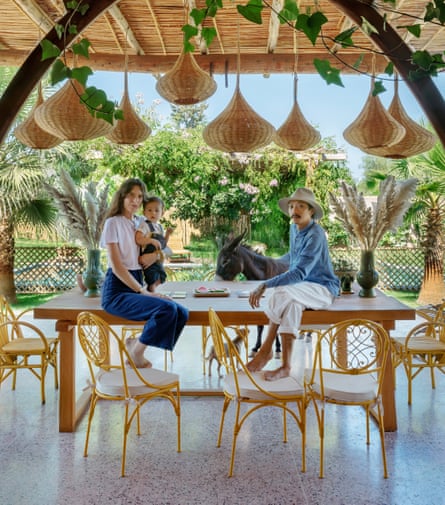 The outdoor dining room is the hub of the home. "It is probably the place where we meet most often with family or friends," says Julien. "We designed and built the huge oak table. The straw lampshade installation adds texture."
For Cyrille, there is no rule when it comes to designing a home. "Follow your instincts and listen to your heart," she says. "Don't hesitate to mix eras, colours and objects. With us, our French culture merges with our love for Morocco. The result is a perfect balance. This house makes us feel happy and so grateful. It is the reflection of our family – a family with mixed cultures. Julien is Laotian-Vietnamese, I am French-Polish. Our son is a mixture of the two of us and we all live in Morocco! In this house we feel safe and, above all, free to exercise our passions."