A bullish stock market indicator with a sterling track record arrived last week. And technical analysts on Wall Street haven't stopped talking about it.
For the first time in more than six months, a Zweig Breadth Thrust was seen on November 3rd as U.S. stocks broadly rallied followed the release of the October jobs report.
A relatively rare occurrence, a Zweig Breadth Thrust requires a sudden surge in the ratio of stocks advancing to the number of stocks declining over 10 trading sessions.
"The concept is that when the most of stocks are rallying together, even if a few run into trouble, enough are left to carry the popular averages higher," said a team of analysts at Ned Davis in a note shared with MarketWatch on Thursday.
To be sure, there are many different flavors of breadth thrust indicators. They have been used by technical analysts for decades to try to glean more insight into how equity-index components are faring.
The Zweig Breadth Thrust indicator in particular has a pretty strong record, as Carson Group's Ryan Detrick illustrates in the following chart.
Since World War II, a Zweig Breadth Thrust has been seen 17 times before Nov. 3. On all but four occasions, the S&P 500 was higher three months later.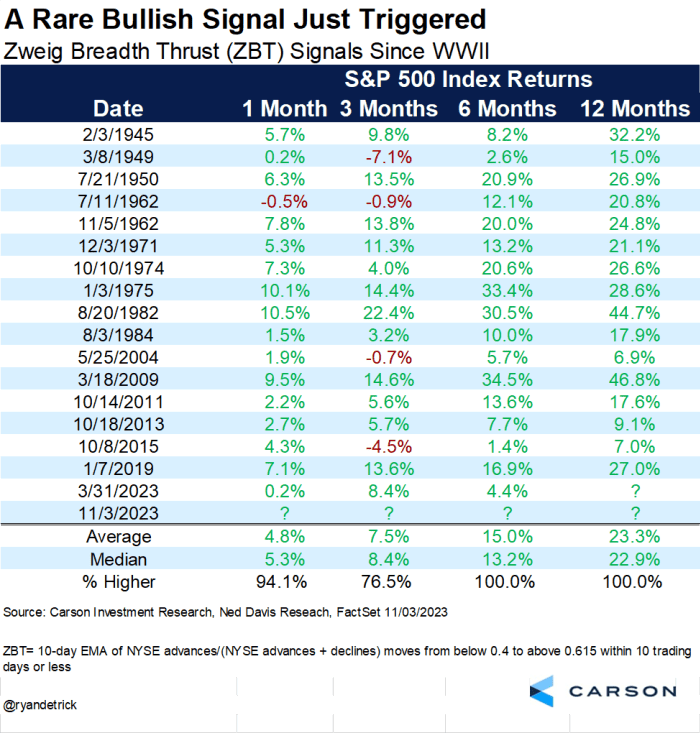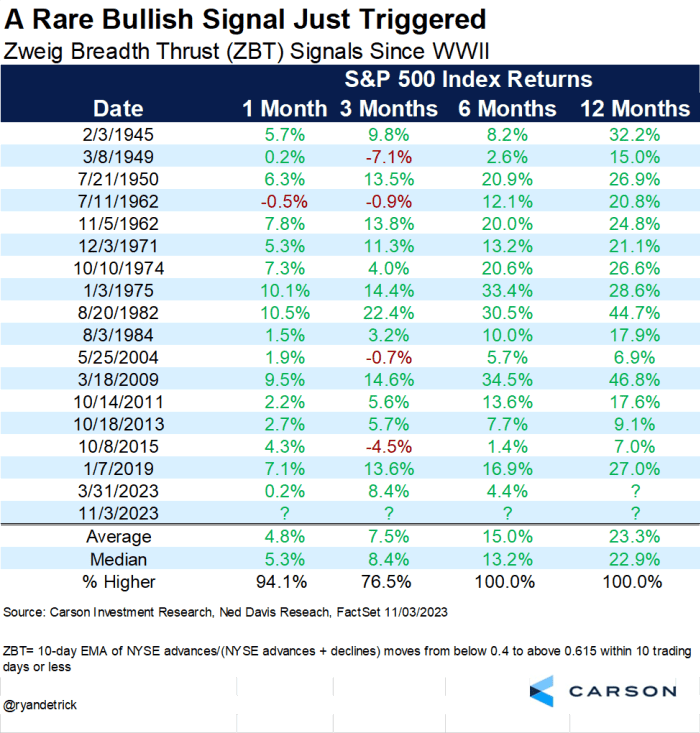 It makes sense that technical analysts would get excited about a sudden sharp improvement in market breadth since breadth in the market has been notably poor this year.
Hardly a week has passed without Wall Street analysts commenting on the market's "bad breadth," as just seven of the 10 most valuable companies in the S&P 500 have accounted for all of the index's appreciation this year, while the other 493 companies have declined in aggregate.
U.S. stocks opened higher on Friday, with the S&P 500
SPX
up 0.2%, but the index was virtually unchanged on the week. The Nasdaq Composite
COMP
was up 0.4% in recent trade, while the Dow Jones Industrial Average
DJIA
was up 100 points, or 0.3%, at 34,004.