The Toronto International Film Festival always presents a diverse array of adaptations and bookish offerings, ranging from widely recognized works to more understated gems. Among the source materials we find: a dystopian young adult novel from a poet, a morally charged Dutch best-seller, and a buzzy mini-series based on a Pulitzer Prize-winning novel. The festival also showcases documentaries and imaginative reinterpretations of the lives of renowned authors. Given the vast offerings of the festival—over 400 films—it's impossible to watch everything, literary and otherwise. Here are some notable highlights, including the winner of the festival's People's Choice award, a harbinger of future Oscars.
Wildcat
Ethan Hawke's Wildcat is an inventive cinematic biography of Flannery O'Connor, focused on the sacred overlap between spiritual callings and creative duties. The 24-year-old Mary Flannery (Maya Hawke) has returned to live with her mother (Laura Linney) in Georgia after being diagnosed with lupus in 1950. The film engages less with historical occurrences and particular incidents in O'Connor's life than with her artistic energies and its attendant struggles as they relate to the divine. Scenes of O'Connor stuck at the typewriter are less about writing than communing with God, and invariably recall Paul Schrader, whose "man in a room" films (like First Reformed, starring Ethan Hawke) feature characters wrestling with sin and redemption—the same locus of themes O'Connor circled in her own work. There is no shortage of voiceovers, but it's hard to complain when the words are as insightful and cutting as O'Connor's.
The main plot is skillfully interwoven with vignettes of O'Connor's stories: "Good Country People," "Parker's Back," "The Life You Save Must Be Your Own" and "Everything That Rises Must Converge," among them. Somewhat predictably, the juxtaposition underscores the permeable boundary between reality and fiction and the genesis from inspiration to final product. I'm unsure of the facts surrounding the extent to which O'Connor drew from her own life, but the interplay fuels the film and also delivers a respectable introduction to her work and life.
Maya Hawke and Linney also play the characters within the stories—atmospherically enhanced and suitably grotesque without being exploitative—adding another layer of depth that elucidates their thorny but tender mother-daughter dynamic. Linney/Mrs. O'Connor often inhabits the role of the hubristic, hypocritical, and often racist Southerner in these episodes, which has the effect of drawing a critical eye away from Flannery and her own viewpoints. This can feel somewhat disingenuous as history shows that isn't exactly the case.
Gonzo Girl
This adaptation of Cheryl Della Pietra's novel, directed by Patricia Arquette, stumbles inelegantly and becomes entangled in a clunky script that mirrors limitations of its source material: a thinly veiled autobiography that recounts the author's temporary tenure as Hunter S. Thompson's assistant. It is 1992, and the renowned writer, renamed Walker Reade (Willem Dafoe), teeters on the precipice of obscurity. His output has stalled and his income is dwindling, but his drug use remains prolific. Aspiring writer Ally Russo (Camila Morrone) is hired to shepherd the completion of a new book and ensure his punctual presence at the typewriter by the 2 a.m. witching hour—that is, before she resorts to rewriting his drivel.
Rather than being primarily concerned with revealing captivating details about the father of gonzo journalism (Dafoe gives an entertaining if opaque performance in his typical shouty-shouty fashion, howling things like "cocaine is sunshine"), the film functions as a literary bildungsroman, and regrettably misses. Gonzo Girl is constrained by a flat protagonist characterized only by fabulous naivete. Ally's motivations and desire are unclear beyond wanting to be "a famous writer," an aspiration she explicitly makes clear by wishing on a cupcake before she sets off for Walker's ranch. Perhaps Virginia Woolf's "star consume me" line from The Waves, which prefaces the film, is meant to provide some context, as she quickly transitions from passive observer to active participant in Walker's debauchery.
More bookish quotes crop up, like the back-and-forth parroting of F. Scott Fitzgerald, which serve as mere nods to literary pretense. Meanwhile filmic representations of writing are depicted in the most banal and facile manner—a blank page, scrunched eyebrows and pursed lips, repeated top-offs of whiskey. Most egregiously, the film has a habit of letting Ally voice-over her words in a stilted fashion at the same speed at which she composes them, with the typewriter clickety-clacking in the background all the while. Eventually she tires of Walker's schtick, and the same restless exhaustion that marks her daily bacchanalia also colors the excruciating ordeal of watching the film. Like Ally, we're squarely relieved when it's over.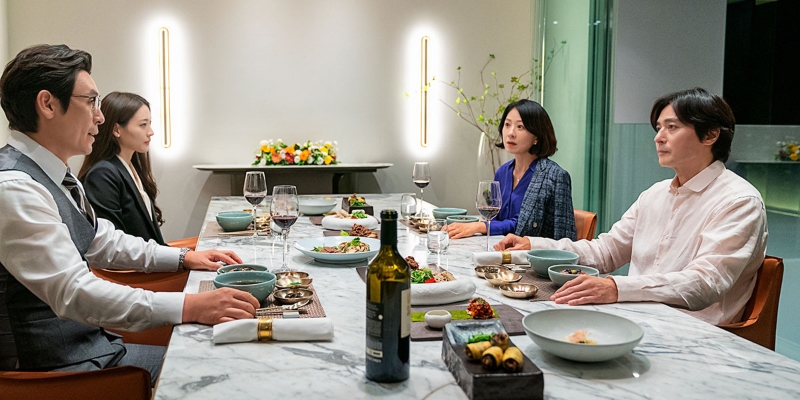 A Normal Family
Hur Jin-ho's commendably chilling adaptation of The Dinner by Herman Koch is a marked improvement from the high-strung but tonally manic American version starring Richard Gere. But fans of the spiky novel will still perceive a certain void when watching this Korean film, which tightens the scope of the book to present a broadly unnerving parable about parents and children.
Two brothers of different social standing and moral values—a criminal defense lawyer and a pediatrician—contend with a horrific crime committed by their two teenage children. The violent act, caught on video, is not so much a plot spoiler as it is a plot catalyst, igniting the film's forward motion. Notably the novel transpires over a single evening, dipping in and out of flashbacks and colored by asides, but here the events unfold chronologically, building a quietly propulsive urgency that plunges us into the parents' fresh shock as they anxiously contemplate their options.
By excising the totemic dinner from the film, Hur overlooks the chance to skewer the pretensions of fine dining. However, he employs meal-time gatherings as a central motif throughout, orchestrating pivotal conversations over wine or outdoor barbecue, and the use of wide angles exaggerates the yawning chasm between the brothers and their wives, as well as their primal parental instincts and their higher moral aspirations.
When I first heard about the film, I thought that Korean society, with its dutiful adherence to social norms and preoccupation with superficial appearances, would be a fitting backdrop to explore Koch's themes regarding genteel Dutch society and its sensibilities. And so I report with some disappointment that A Normal Family chooses largely to abandon these subjects, which could have tremendously enhanced and enriched its depth. Instead, Hur opts to focus heavily on the dynamics between parents and children, intensifying notions of filial piety (a characteristically Korean theme, I'll give him that) with a side plot about the brothers' ailing mother.
Most significantly, the film sidesteps the nastier aspects of Koch's novel. Known for romantic dramas and period films, Hur is an intriguing choice of filmmaker for this adaptation. One wonders how Park Chan-wook (Oldboy; The Handmaiden), who is widely recognized for his black humor and dabbling in the murky depths of the human psyche, might have approached the twisted material and its more unsavory elements.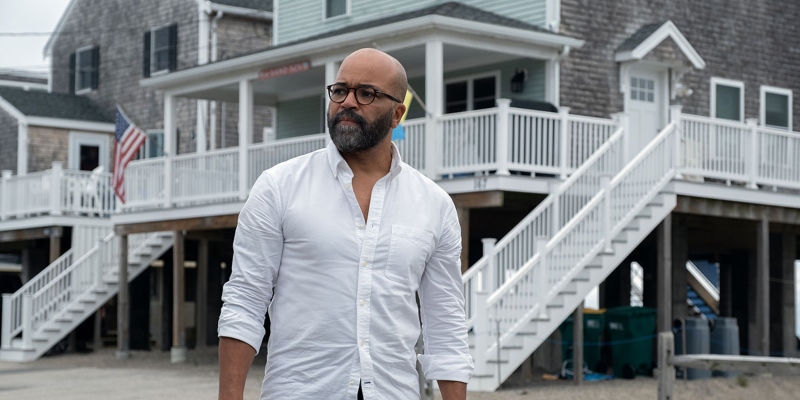 American Fiction (People's Choice Award)
Percival Everett's novel, Erasure, about a Black writer of poststructuralist fictions grappling with identity and race, doesn't quite fit the comedic mold portrayed in its movie adaptation, American Fiction. Unable to find a publisher for his next book and accused of not being Black enough, Thelonious "Monk" Ellison (Jeffrey Wright) finds unexpected success after penning a deliberately offensive stereotype-fueled novella under a pseudonym. Surprisingly, it gets picked up, wholly embraced by the very system Monk sought to challenge.
Cord Jefferson's striking debut offers insightful condensations, and its resourceful script finds a way around having to show "My Pafology," the story-within-a-story that the book fully presents. Other alterations, however, have both understated and significant reverberations, ultimately smoothing the nihilistic edges of the book into something amusingly ironic though less explosive. The characters are animated with a certain vibrancy, exhibiting a zest for life absent in the novel, which is also illuminating in its portrayal of an upper-middle-class Black family. The members of the Ellison family, with their dinner-table sparring over James Joyce, masked jealousies, and sibling rivalries, have a layered yet tender relationship with one another, but American Fiction warms their dysfunction with Hollywoodisms. Monk's recently divorced brother (Sterling K. Brown) is more swaggerful than sad, his sister (Tracee Ellis Ross) more forthrightly encouraging. Though without these modulations, we'd be robbed of glimpses into Brown's comic genius.
Monk himself undergoes a slight personality change, too. Everett writes Monk as a sort of invisible man, underrecognized and caught in an existential crisis—he isn't named Ellison for nothing. But Jefferson endows Monk chiefly with a curmudgeonly literary pretentiousness, more reminiscent of Paul Giamatti in Sideways than anything else. His girlfriend accuses him of wearing his inability to connect with people as a badge of honor, but in the book, Monk—helplessly awkward, constantly ill at ease, and painfully self-conscious about it—does not suffer from such privilege.
Erasure is a book of formal experimentations that includes Monk's scrapped ideas, snippets from books, and boyhood remembrances, and this composite quality is mirrored by the film's discordant tonalities. Ultimately and not insignificantly, Jefferson has crafted a work distinct enough from the book to call his own.
The Critic
Any traces of mirth found in Anthony Quinn's novel Curtain Call have been bled dry in its adaptation The Critic, which lacks comedic instincts and rejects any semblance of pastiche found in its source material. Ian McKellan portrays Jimmy Erskine, a ruthless, silver-tongued drama critic who loses his job for failing to cover up his homosexuality in 1930s London. To regain employment, he devises a Faustian blackmail scheme involving a mediocre actress (Gemma Arterton). Other characters include the critic's younger Black live-in assistant/lover and the newspaper owner and his son-in-law, played by Alfred Enoch, Mark Strong, and Ben Barnes respectively—all capable actors who struggle to overcome an oppressively limp script.
The film's witty one-liners showcased at the start all but disappear in the latter half as the shadow of fascism looms larger and the plot's absurdity intensifies in a mechanical progression. At one point someone accuses Jimmy of having "a face more interesting than his opinions," a backhanded compliment that couldn't even apply to the film itself. The Critic offers little of thematic and visual interest, with overwrought compositions of cluttered art deco townhouses that look like they've been overroasted by candlelight.