The 2024 Mazda CX-90 PHEV takes the company's all-new midsize 3-row SUV and enhances efficiency with a plug-in hybrid drivetrain. Pricing starts at $47,445.
As Mazda's
MZDAY,
-0.21%
 first-ever plug-in hybrid, the 2024 CX-90 PHEV SUV breaks new ground and sets the direction most of its new vehicles will follow. A plug-in hybrid electric vehicle (PHEV) has a bigger battery than a typical hybrid, and usually a gutsier electric motor.
The result is that a PHEV can deliver both performance and fuel economy, with the ability to travel for some miles on electric power alone. (In this case, that's 26 miles.) Recharge the battery overnight (that's the plug-in aspect), and those short weekday trips may not need any gasoline whatsoever. The CX-90 PHEV can still be a road-tripper, though.
Mazda is pushing more toward the luxury sector with each new vehicle. For example, the CX-90's dashboard has stitching inspired by Japanese bookbinding, which is most Lexus-like. The rest of this SUV follows a similar path.
The non-hybrid version of the 2024 Mazda CX-90 is reviewed separately.
Learn more: What is EV, BEV, HEV, PHEV? Here's your guide to types of electric cars
2024 Mazda CX-90 PHEV pricing
The 2024 Mazda CX-90 PHEV starts at $47,445. That's for the Preferred trim, which is higher than the base trim of the regular CX-90. This version comes with all-wheel drive as standard, as well as plenty of safety features. The range-topping Premium Plus is priced from about $57K.
2024 Mazda CX-90 PHEV Preferred: $47,445
2024 Mazda CX-90 PHEV Premium: $52,900
2024 Mazda CX-90 PHEV Premium Plus: $56,950
These are manufacturer's suggested retail prices and do not include the $1,375 factory-to-dealer delivery fee (destination charge).
There are plenty of midsize 3-row SUVs, but only a few have plug-in hybrid drivetrains. The Kia
000270,

Sorento Plug-in Hybrid starts at $50K, and the Mitsubishi
7211,
-0.23%
Outlander PHEV at $40K (2023 prices). Both of them are smaller than the CX-90.
Before buying a new CX-90 PHEV midsize 3-row hybrid SUV, check the Kelley Blue Book Fair Purchase Price to know what you should be paying.
Read: The 2023 Kia Sorento Hybrid offers great fuel economy with plenty of safety features and lively performance
What's new for 2024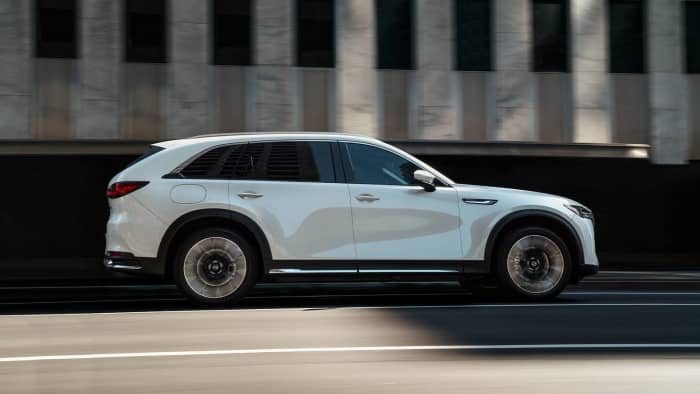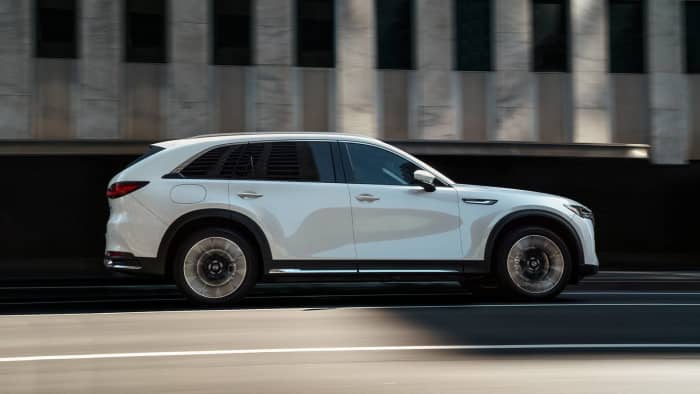 Everything about the 2024 CX-90 PHEV SUV is new — the platform, plug-in hybrid drivetrain, and interior. This is the most fuel-efficient variant of the broader new 2024 CX-90 lineup, yet it also has substantial power.
Driving the 2024 Mazda CX-90 PHEV
The 323-horsepower CX-90 PHEV can hit 60 mph in 6.6 seconds. That's as quick as the 6-cylinder CX-90 Turbo S model, and among the quickest 3-row midsize SUVs on the market. And while it doesn't offer the same sweet sound as the standard CX-90's inline 6-cylinder under full acceleration, the hybrid is not without aural appeal.
Thrown hard into a corner, the CX-90 PHEV feels like a Mazda should. Like the standard CX-90, the PHEV version gets Kinematic Posture Control, which contributes to the fine agility of this 3-row SUV. This feature applies subtle braking to the inside rear wheel when taking corners at a more enthusiastic pace, reducing body roll.
Back in the real world, though, the CX-90 PHEV driving experience is just OK. It's not as responsive as the all-gas CX-90 or even some of its less performance-oriented competitors. The Honda
HMC,
+0.10%
Pilot and Kia Telluride are more satisfying as daily drivers, for instance. As might be expected and accepted, Mazda's first plug-in hybrid powertrain isn't as seamless and refined as some others.
Nevertheless, the CX-90 PHEV can drive 26 miles on electricity alone, which is something few other midsize SUVs can offer. In full EV mode, the CX-90 PHEV gets you through the city in fine fashion, if not all that quickly. But if you depress the accelerator past the kick-down switch, the 2.5-liter 4-cylinder gasoline engine kicks on automatically and comes running to the rescue like an overly concerned parent.
The CX-90 is among the best-driving 3-row SUVs on the market when equipped with the impressive turbo 6-cylinder engine. The plug-in hybrid version is one of the few that can drive on battery power alone. Take your pick; you can't have both.
Plus: The 10 best hybrid SUVs for 2023
Upscale interior
There's seating for up to eight in the new plug-in hybrid CX-90 SUV. The top two trims each seat a total of seven, with a pair of captain's chairs for the second row.
The regular second-row seats can slide and recline, offering up 39.4 inches of legroom. The third row has 30.4 inches. For comparison, the smaller Kia Sorento Plug-in Hybrid enjoys 40.3 and 29.6 inches, respectively.
Some contemporary cabins can look bleak when designers give them a large touchscreen and then strip away as many buttons as possible in pursuit of tidiness. This hybrid CX-90's interior still looks tidy in an upscale way, and Mazda retains a useful amount of switchgear while using high-quality materials. Every row has two USB-C ports.
The two lower trims have a 10.25-inch infotainment screen; the priciest Premium Plus receives a 12.3-inch unit. Seating surfaces are leather throughout, with extra-fine Nappa leather in the top trim.
Depending on how many seats are folded, cargo space in the 2024 CX-90 PHEV goes from 14.9 cubic feet (big enough for at least three sets of golf clubs) to 74.2. According to Mazda, this model's plug-in hybrid hardware doesn't compromise cargo area compared with its non-PHEV stablemate.
Read: The pros and cons of plug-in hybrids and your guide to buying one
Rich exterior
Apologies for repeating ourselves yet again, but Mazda's general styling approach is definitely in the luxury vehicle bracket. Take away the badges, and someone could easily think a company like Jaguar made the new CX-90 PHEV SUV.
Mazda also has a way with the color red. A few years ago, it created Soul Red Crystal Metallic. Those who say they don't like red cars could probably get on board with that hue. Now the company has developed a deeper and richer Artisan Red Premium, but it's only available with the two higher trims.
For an idea of size, this plug-in hybrid CX-90 SUV is longer than the Honda Pilot by an inch and a bit.
Also see: The 8 best hybrids you can get for under $40,000
Our favorite features and tech
Apple CarPlay/Android Auto
Phone integration is standard in the 2024 CX-90 plug-in hybrid, going wireless in the second trim on the price ladder.
Digital driver information display
Every new CX-90 plug-in hybrid SUV has a configurable 12.3-inch digital instrument cluster, adding to the luxury/tech feel of the cabin.
Powered tailgate
Another standard feature includes programmable heights. Hands-free operation comes in the two higher trims.
Mazda Connect
This standard array includes voice control for the infotainment system, Pandora integration, and automatic emergency notifications.
Head-up display
This becomes standard in the second trim (Premium), projecting vital information on the windshield directly ahead of the driver.
Heated second-row seats
These are exclusive to the Premium Plus trim, which also has heated/ventilated front seats and a heated steering wheel.
Engine and transmission
On the gasoline side of this new hybrid CX-90 is a naturally aspirated (no turbochargers or the like) 2.5-liter 4-cylinder engine. Mazda recommends premium gas.
An electric motor slots between this engine and the 8-speed automatic transmission. Their combined output is 323 horsepower and 369 lb-ft of torque. That compares well with the most powerful non-PHEV CX-90, the Turbo S, which has 340 hp and the same amount of torque.
Because this is a plug-in hybrid, it can run on electric power for 26 miles.
All-wheel drive is standard, and the maximum towing capacity is 3,500 pounds.
2.5-liter 4-cylinder engine/electric motor
323 horsepower @ 6,000 rpm
369 lb-ft of torque @ 4,000 rpm
EPA fuel economy: 56 MPGe/25 mpg
See: Most car shoppers are looking for hybrids, not EVs
3-year/36,000-mile warranty
Mazda's new-vehicle warranty is for three years or 36,000 miles. Powertrains are covered for five years or 60,000 miles. This is typical for mainstream manufacturers. We expect Mazda to offer a longer warranty for the hybrid system's battery.
Check out: The 2023 Mazda CX-30 review: Mazda adds a little more zip to its subcompact crossover
Test vehicle
We've already tested a couple examples of the 2024 Mazda CX-90 PHEV, including this Premium Plus in Rhodium White Premium with a sticker price of $58,920 (view window sticker).
KBB's car review  methodology.
This story originally ran on KBB.com.