Kai Havertz could soon become one of the Premier League's most expensive signings of the summer transfer window despite enduring a difficult season with Chelsea.
Arsenal are in talks to sign him for more than £60m after a three-year spell at Stamford Bridge during which he has struggled to find consistency following his £75m arrival from Bayer Leverkusen.
How would Havertz be remembered at Chelsea? Which club would be getting the better end of the deal? And what are the qualities that make him so appealing to Arsenal and Mikel Arteta?
Here, with a deal to take Havertz to the Emirates Stadium said to be edging closer, Sky Sports' Joe Shread and Nick Wright tackle the Chelsea and Arsenal angles respectively.
Watch some of Kai Havertz's best goals for Chelsea in the Premier League

Havertz's Chelsea legacy hard to judge
If Havertz is to depart Chelsea, he will leave behind a legacy that makes his three years in west London difficult to judge.
Signed for £75m from Bayer Leverkusen in 2020, the 24-year-old is set to exit with a fairly mediocre scoring record of 32 goals in 139 games and the impression that he failed to carve out a specific role for himself within the Chelsea side.
Havertz's goals-per-game average at Chelsea is 0.23, lower than his 0.31 average at Leverkusen. His 2022/23 season was particularly underwhelming, with only Leeds' Patrick Bamford recording a greater underperformance compared to his expected goals output. Havertz also missed 14 of the 18 big chances he was presented with.
But forwards should not solely be judged on the number of goals they score; when and where they score them can be equally important.
In this category, Havertz can point to his winning goals in the 2021 Champions League and the 2022 Club World Cup finals – strikes that earned him a reputation as a player for the big occasion and which must be considered when analysing his time at Chelsea.
But that goal against City was one of just six he has scored in the Champions League across 31 games with the Blues. Surely more should be expected of a forward player regularly starting for one of Europe's biggest clubs?
However, it's then fair to ask whether Chelsea's use of Havertz has actually held him back. His versatility has helped to ensure regular starts, but they have often come as a lone striker with the burden of being the team's primary goal-scoring threat.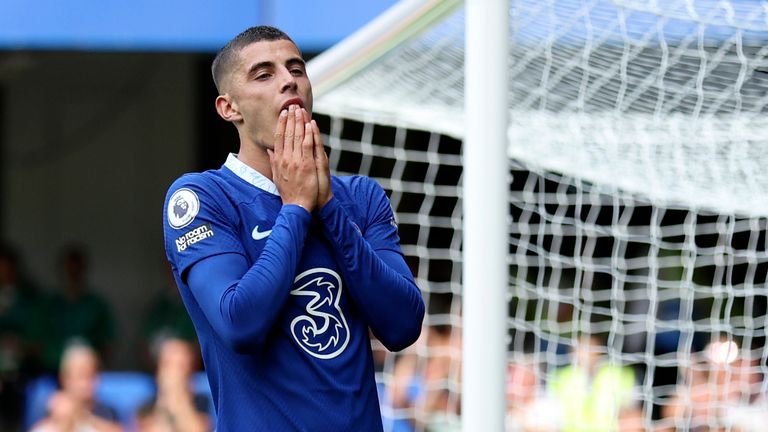 It's not that playing as a No 9 doesn't suit Havertz. If allowed to drop deep and paired with reliable goalscorers either behind him or out wide, it's easy to see the German being a highly effective false nine.
But that is not the role he has been asked to play by Chelsea, who instead have required Havertz to lead the line while being hampered by the inability of his fellow attackers to score reliably.
Havertz has also been denied anything more than fleeting opportunities to demonstrate his worth as either a No 8 or a lone No 10 playing behind a true No 9 – two roles that would appear to suit his ability to link the play and score by arriving late into the penalty area.
The fact that Havertz has seen Frank Lampard, Thomas Tuchel, Graham Potter and then Lampard again occupy the head coach's position at Chelsea also highlights the dysfunction under which he has been forced to operate during his time at the club.
Havertz under Poch? What could have been…
For those who believe Havertz is responsible for failing to fulfil his potential at Chelsea, the prospect of Arsenal paying a reported fee of around £65m for a player with just two years on his contract must be enticing.
Making the deal even more attractive is that Havertz has supposedly shown little appetite to renew his existing contract, while Christopher Nkunku – the £52m signing from RB Leipzig – operates in a similar position.
Yet the feeling remains that Havertz is set to leave at the time when a manager who may finally have been able to bring the best out of him has arrived at the club.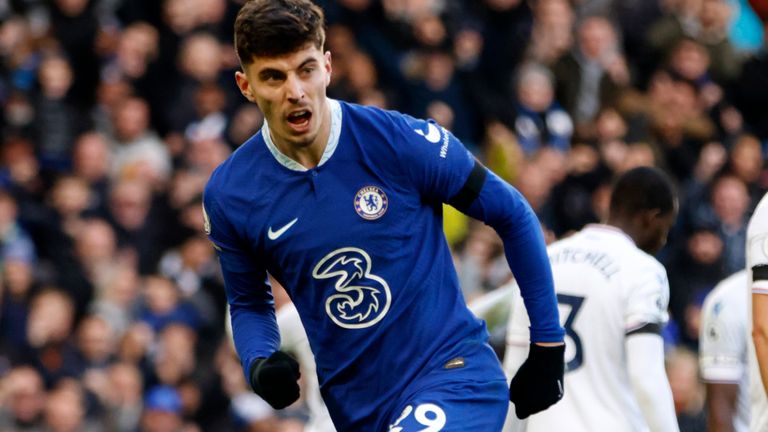 Mauricio Pochettino regularly deployed a 4-2-3-1 formation during his time at Tottenham, with Dele Alli as the No 10. It is easy to forget given Alli's travails in recent seasons, but between 2015 and 2018 the Argentine helped to mould him into one of the Premier League's outstanding attacking talents.
Havertz shares many of the attributes that Alli demonstrated at his peak – pace, strength, aerial ability and a knack for drifting into space in the final third.
It would have been fascinating to see what Pochettino could have done with Havertz. Instead, it looks like Arteta will be tasked with unlocking his undoubted potential.
Why his finishing is no worry to Arsenal
Havertz's modest scoring record at Chelsea will concern Arsenal supporters. The underlying data from last season is not pretty. In isolation, it paints a picture of a player who lacks cutting edge.
But it should be noted that Havertz performed roughly in line with his expected goals in the previous two seasons. Before that, there were 38 goals in 87 appearances in his last two years with Bayer Leverkusen. He has scored 13 times in 36 games for Germany.
Sky Germany's Florian Plettenberg reports Kai Havertz is keen to join Mikel Arteta's Arsenal side, despite strong interest from Bayern Munich

For Arsenal, the hope is that those numbers are a better illustration of his true potential as a finisher than the ones he produced during an often-tumultuous three-year spell at Chelsea.
Besides, scoring is only one side of his game.
Havertz has shown he is more than capable of playing as a false nine but he is not and never has been an out-and-out striker, instead describing himself as "a midfield player who likes to go into the box". Best to judge him, then, on his broader contribution.
That is certainly what Tuchel did. "If we isolate the goalscoring, maybe we can say we expect more and he expects more, for sure," the German said in February of last year. "But, in terms of what he is giving to the team, he has stepped up already and he is pretty consistent."
His qualities are wide-ranging.
On the ball, Havertz is an outstanding technician, his languid style reminiscent of Dimitar Berbatov. But he is arguably even better off it and that is undoubtedly a major part of his appeal to Arteta and Arsenal.
Whether playing off the flank or starting centrally, his movement is excellent. Havertz always looks to provide an option for his team-mates in the final third and his willingness to stress opposition defences can be seen in his numbers for off-the-ball runs.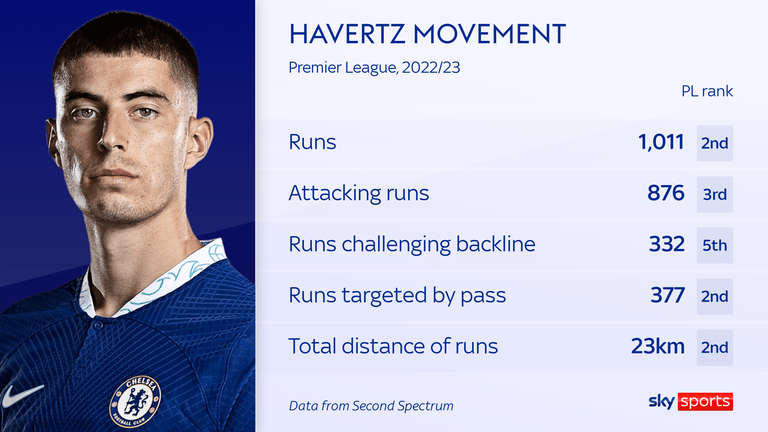 Last season in the Premier League, only Tottenham's Heung-Min Son made more of them. Havertz ranked third, meanwhile, behind only Son and Aston Villa's Ollie Watkins, for attacking runs.
Only four players – Watkins, Son, Erling Haaland and Marcus Rashford – made more runs deemed to have challenged the opposition's backline, and the quality of Havertz's runs can be seen in the fact that only Mohamed Salah's were targeted for more passes.
"He moves fantastically between the lines," Tayfun Korkut, his former manager at Bayer Leverkusen, explained to Sky Sports in 2020. "He knows exactly where to stand. He sees the spaces where he needs to be. When the space begins to close, he moves to the next space.
"So, he not only controls the ball, he controls the space. That is why he is always in the right position."
How he could give Gunners a new dimension
Havertz's movement and mastery of space will doubtless be alluring to Arteta, who asks his attacking players to interchange positions frequently in order to maintain an element of unpredictability. His versatility would therefore be similarly valuable.
Havertz played more commonly as a central striker than any other position for Chelsea but he was used right across the front line. Some even see him as a midfielder. "Maybe his best position is as a No 8 in the 4-3-3 formation," added Korkut back in 2020.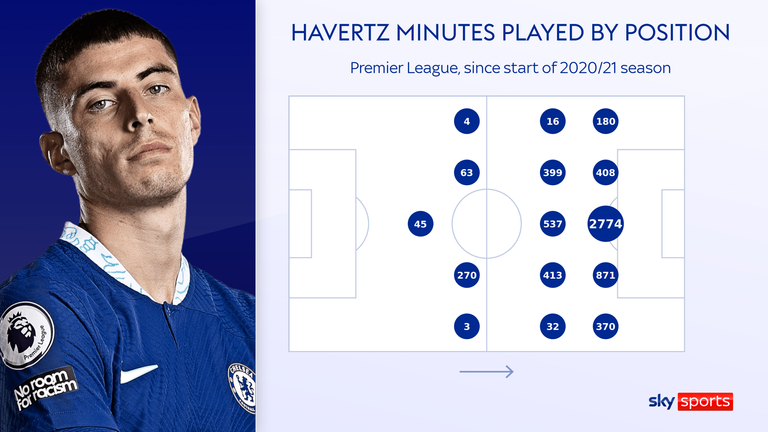 That, of course, is the formation Arteta uses at Arsenal and the right-sided No 8 position occupied by Martin Odegaard is just one of several slots in the team that Havertz could feasibly fill.
His two-footedness is such that he could also play on the other side, in the role occupied by Granit Xhaka last term, while he could also provide a much-needed alternative to Bukayo Saka, who faced a gruelling workload last season, on the right flank.
Then there is the potential to use him up front.
Havertz is not dissimilar to Gabriel Jesus in terms of his movement, work-rate and ability to press – he made more high-intensity sprints and covered more ground than any other Chelsea player last season – but he would bring different qualities to the No 9 role too.
At 6ft 2ins, he offers height and a level of aerial prowess Arsenal do not currently have in the position. Havertz is not a traditional target man, but he has the strength and stature to win duels and bring others into the play and offers an aerial threat in the box too.
Last season, he scored three headed goals in the Premier League, while only eight players in the division attempted more headed shots, and only 11 players had more on target.
A deeper look at the numbers is even more revealing.
In total, Havertz won 56 per cent of his aerial duels last season, a higher success rate than even Ivan Toney or Aleksandar Mitrovic (both 48 per cent). Jesus, by comparison, only won 37 per cent of his.
An outcome to suit all parties
Ultimately, a move to Arsenal could suit everyone involved.
It would allow Chelsea to recoup the bulk of the £75m fee they paid for him despite the fact he has just endured a poor season. And that with his potential replacement already signed in Nkunku.
Arsenal, on the other hand, would feel they are acquiring a player with huge untapped potential, who, at 24, has the peak years of his career still ahead of him, and the capacity to cover multiple positions while also giving Arteta something different in attack.
For Havertz himself, meanwhile, it would be a fresh start, and an opportunity to show the full extent of the talents which made him one of Europe's most exciting young players while at Bayer Leverkusen.