Female football boots could be revolutionised after findings revealed 82 per cent of women players across Europe experienced regular discomfort.
The European Club Association hosted its first Women's Football Summit in London on Monday and revealed findings of 12 months of research around football boots.
Traditionally, all football boots for women and men are the same, based on a generic white male foot.
After speaking with 350 female club footballers across Europe and scanning their feet, research conducted for the ECA suggests girls and women should be offered two new boot designs.
Female feet are different from men, not only smaller in general, but with a higher arch and difference in heel shape.
Eighty-two per cent of the 350 players the ECA surveyed said they experienced some discomfort on a regular basis while wearing boots.
The research, led by Dr. Katrine Kryger from St. Mary's University, acknowledged that a football boot cannot prevent injury, such as the spate of ACL ruptures that have been seen in the women's game recently, but that comfort and choice should be a right for all female footballers.
Dr Kryger's research also pointed to how ethnicity also plays a significant role in foot shape. However, she hoped two boot designs would represent an offering for the majority of players.
ECA Head of Women's Football Claire Bloomfield was insistent this was not a gimmick and was just the beginning of much-needed research into what female footballers require.
Dr Kryger intends to share her research free with boot manufacturers in a bid make football for girls and women more comfortable and lead to further awareness around injury prevention.
An exclusive Sky Sports News investigation earlier this month revealed teenagers playing grassroots sport were 29 times more likely to require ACL knee reconstruction surgery compared with 20 years ago, with girls and young women at high risk.
A group of surgeons and doctors believe a 10-15 minute injury prevention warm-up prior to training or competitive sport could reduce the risk of an ACL injury by 50-70 per cent. They also called for much-needed research into why female athletes are susceptible to serious knee injuries like an ACL rupture.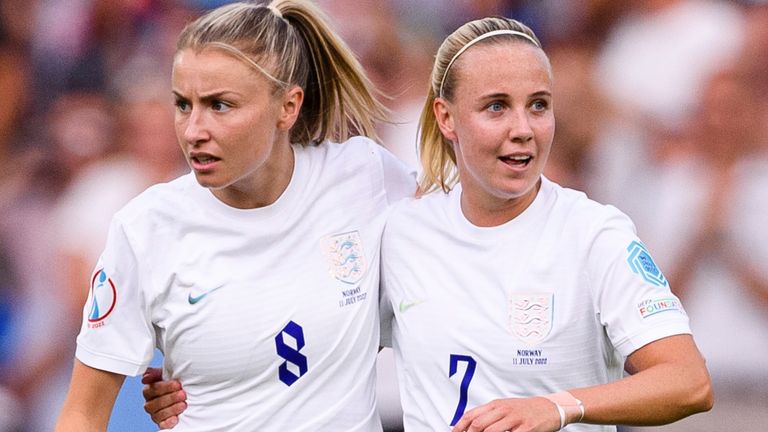 Women's led football boot unveiled before World Cup
Nike have unveiled their most "researched women's-led football boot design" in history ahead of the Women's World Cup.
The Phantom Luna boot, which has been two years in the making, features a unique design specifically requested by female footballers.
The boot is not purely female-specific but has been designed with the female foot primarily at the forefront of consideration with certain design aspects.
Nike's research found that the women's game is concentrated more towards attacking as a team and demands more touch passes in general, which has seen the Phantom Luna manufactured with larger touch zones to optimise boot-to-ball connection.
The Phantom Luna is anatomically designed with a lower cuff to accommodate the female ankle, while the higher collar provides increased lockdown to reduce rotational traction at the knee, thereby reducing the risk of ACL injuries for both men and women.
The boot also has arch heights available ranging from flat foot to high arch, while the design attempts to combat Achilles irritation with high cuff heels to reduce break-in time during fast-paced matches.
The Phantom Luna has a new and innovative circular stud pattern, named the Cyclone 360, which will allow players to move more freely with agility, precision and security on the pitch.