China's biggest property developer, Country Garden, defaulted on interest payments on dollar-denominated debt with a face value of $1 billion on Monday, sparking steep selling of its bonds and raising fresh fears about China's highly indebted real estate sector.
The developer missed $22.5 million of interest payments that were due Monday, as the Wall Street Journal reported. Prices of the two bonds, that mature in 2026 and 2030, promptly fell below 8 cents on the dollar and remained at distressed levels on Wednesday.
As the following chart from data-as-a-service company BondCliQ Media Services shows, the company's bonds were trading at cents on the dollar on Wednesday.
Over the past 10 days, there was better buying into the dip, as this chart shows.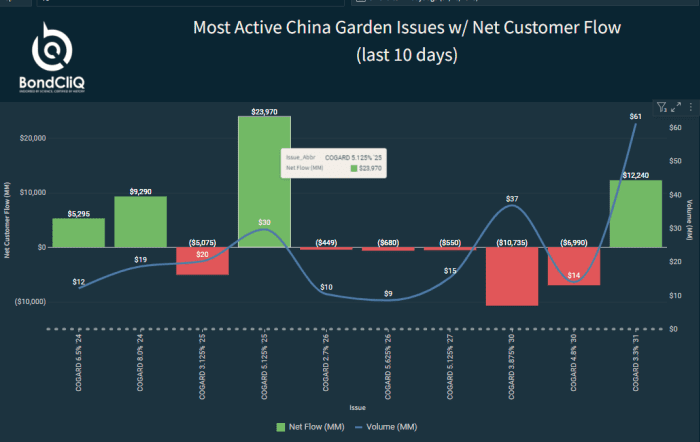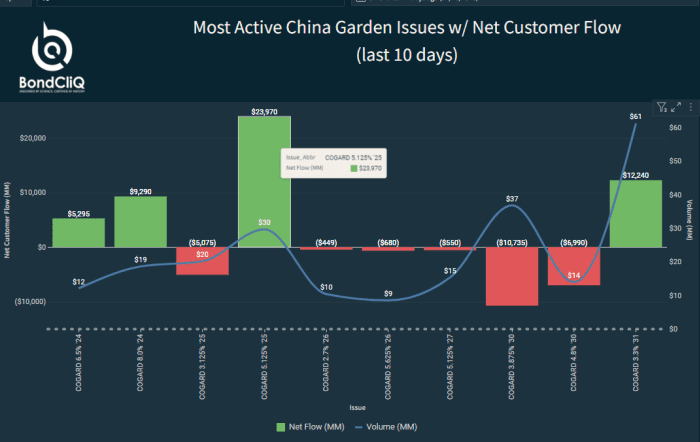 Country Garden has a grace period of 30 days to make the interest payments before bondholders can send a notice of default.
But the cash crunch has reignited concerns about China's real estate sector after other defaults including from China Evergrande Group in the last two years.
From the archive: Evergrande fears sink stock market: Here's what investors need to know about the teetering property giant
The company was unable to make its interest payments because of the recent deterioration in its sales and a shortage of available funds, a spokesperson told the Journal.
Country Garden has been beset by bad news in recent weeks amid market speculation about its financial health. The company issued a warning on July 31 that it may book a net loss for the first half, the Journal reported separately, as China's housing market has deteriorated.
That would mark its first interim loss since it went public in Hong Kong 16 years ago. As recently as six months ago, the company appeared to be in a position to get through China's housing downturn without defaulting on its U.S. dollar bonds.
China's real estate sector is sagging under the weight of a massive debt load taken on over the past few decades. The COVID pandemic and subsequent lengthy lockdowns have exacerbated the problems and a much-hoped for recovery this year has failed to materialize.
Related: China's property woes offer a window into the demise of the country's boom times
Trade data released on Tuesday showed China's exports fell more than expected in July, weighed down by continued weakness in global demand, as Dow Jones Newswires reported.
Outbound shipments dropped 14.5% from a year earlier in July, compared with the 12.4% decline in June, the General Administration of Customs said. The result was worse than the 12.0% fall expected by economists in a Wall Street Journal poll.
Chinese imports declined 12.4% from a year earlier in July, compared with June's 6.8% fall and the 5.0% drop expected by surveyed economists.
On Wednesday, data showed China's consumer prices fell for the first time in more than two years in July, while the country's factory-gate price index declined at a slower rate, as Dow Jones Newswires reported.
Also see: Investors start to fret that China, Europe may drag U.S. economy down with them