Carnival Corp.'s bonds were up by about a point early Monday, after the cruise operator said it would retire $1.2 billion of its highest-cost debt and issue a new $1 billion secured first-lien term loan.
Carnival
CCL,
+1.22%
CCL,
+0.73%
Chief Financial Officer David Bernstein said the company has confidence in its business and cash-flow generation as it enjoys a strong recovery in travel from customers eager to spread their wings after the restraints created by the COVID pandemic during the past three years.
The company said it expects to save about $120 million in interest expense on an annualized basis by redeeming all of its 10.5% second-priority senior secured notes due in 2026 and its 10.125% second-priority senior secured notes due in 2026.
"In connection with this retirement, we plan to extend some of the lowest cost public debt in our portfolio," Bernstein said in a statement.
"This is yet another step forward in our deleveraging journey, building on the $1.4 billion we already early retired this year. With this debt repayment, we now expect our year-end debt balance to be less than $32.0 billion, an improvement over the November 30, 2023, debt balance of less than $33.0 billion provided in our June guidance," he said.
As the chart below from data-as-a-service provider BondCliQ Media Services shows, there was only buying for Monday's opening trades. 
The bonds have enjoyed better buying over the last 10 days, according to BondCliQ, led by the 10.375% notes that mature in 2028.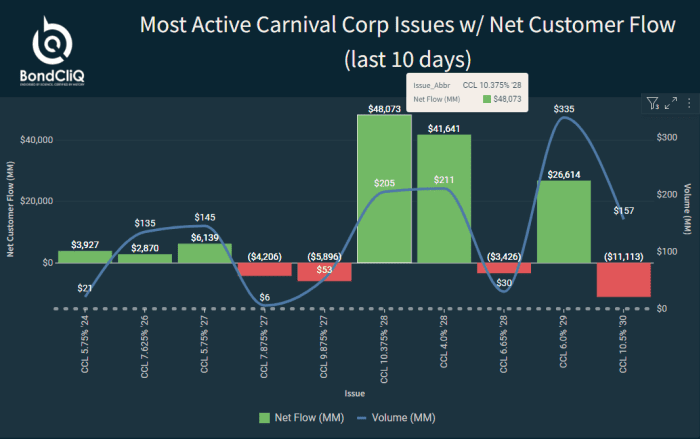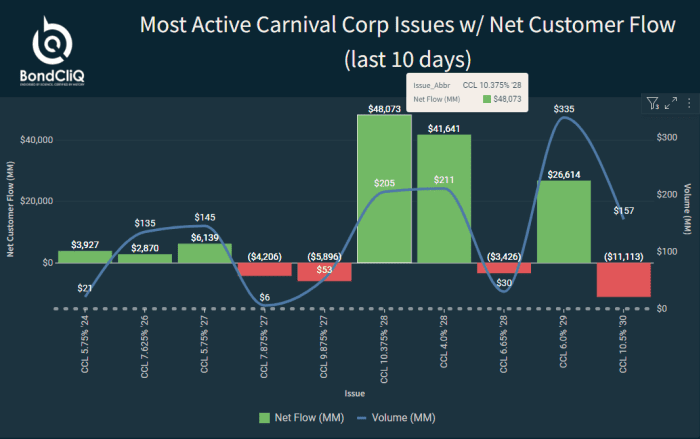 Carnival said it would issue a new senior secured first-lien term loan B facility with an original principal amount of $1 billion, expected to mature in 2027. Carnival may raise an additional $500 million of other secured debt maturing in 2029.
The proceeds will be used to repay a portion of borrowings under its existing first-priority senior secured term loan facility maturing in 2025.
See also: Royal Caribbean's stock soars to pre-COVID levels after earnings beat and big bump up in outlook
In June, Carnival reported fiscal second-quarter results that beat expectations, and provided an upbeat outlook.
Net losses for the quarter to May 31 narrowed by 78%, to $407 million, or 32 cents a share, from $1.83 billion, or $1.61 a share, in the same period a year ago.
Excluding nonrecurring items, adjusted per-share losses narrowed 81%, to 31 cents from $1.64, to beat the FactSet loss consensus of 34 cents.
Revenue rocketed 104.5% to a second-quarter record of $4.91 billion, above the FactSet consensus of $4.79 billion. Passenger-ticket revenue soared 144.4% to $3.14 billion amid higher pricing, and onboard and other revenue increased 58.6% to $1.77 billion.
For fiscal 2023, the company raised its outlook for adjusted earnings before interest, taxes, depreciation and amortization (Ebitda) to $4.1 billion to $4.25 billion, up from $3.9 billion to $4.1 billion.
The company now expects 2023 net per diems in constant currency, or the cruise rate divided by days on board excluding changes in foreign-currency rates, of 5.5% to 6.5% above 2019 levels, compared with previous guidance of up 2.5% to 3.5%.
The stock was up 1% Monday but has gained a stunning 136% in the year to date, while the S&P 500
SPX,
+0.10%
has gained 19%.
Related: Norwegian Cruise stock falls as analyst worries the 'undeniable' recovery is already priced in