Lucy Bronze has told Sky Sports News that England's players remain committed to fighting for change in the women's game as a dispute over bonuses continues to overshadow World Cup preparations.
Sky Sports News reported earlier this week that a row had broken out ahead of the tournament in Australia and New Zealand, with England's players "disappointed" with the bonuses they will be paid by the FA if they progress through the competition.
A FIFA rule change for this World Cup will see players earn a set bonus according to performance, irrespective of the nation that they play for.
Previously bonuses had been at the discretion of national associations. But that is no longer the case, with England among the teams unhappy with the additional bonuses being offered.
Asked if she was disappointed that talks over bonuses are hanging over England's players ahead of the tournament, Bronze told Sky Sports News: "I think a lot of these issues happen in women's football – you don't just see it for our team.
"There are many teams where players or associations or teams having to fight to make changes in the game.
"We are pushing the game on, we're trying to hit new levels and that's what we want to do as players both on the pitch and off the pitch.
"It's a shame that women in sport in general have to do that, but I think it's a role than many athletes, many women take on in society and in sport."
Sky Sports News was told at the beginning of the week that England's women could yet be paid some additional bonuses if they perform well at the World Cup in Australia and New Zealand.
It's thought the FA's commercial partners may yet step in with more money to reward performances, as has happened with both male and female England squads of the past.
Ahead of the Women's World Cup, the issue of players getting paid appropriately by their respective associations is yet to be offered.

Sky Sports News reporter Anton Toloui confirmed a variety of solutions are still being looked at.
"Players being paid appropriately is a big issue going into this World Cup," he said.
"For England, Lucy Bronze is the first player to come out and openly talk about this situation and admit her frustrations about the situation that talks amongst the players and the FA are still going on.
"The FA are looking at different ways of trying to potentially resolve this."
How has this situation occurred?
Sky Sports News' Rob Dorset explains the row between the Lionesses and the FA over World Cup bonuses.

FIFA has changed the rules for this World Cup to try to ensure that all the players at the tournament, whatever country they are from, will earn the same as their opponents who reach the same stage of the competition.
That means bonuses are set for each round, with all players receiving £24,000 if they get knocked out in the group stages, and £213,000 if they go on to win the World Cup.
In the past, because prize money has been paid directly to individual associations, it's been down to that nation's discretion to decide how much the players will be paid from the prize fund. That is no longer the case.
Prince William and Millie Bright take on Mary Earps and Rachel Daly in a game of table football as the Lionesses prepare for the World Cup.

As a result, for the first time, the English FA stands to lose money on this World Cup, however, the team performs because of the costs associated with hotels, flights, equipment and other support staff.
The players, however, feel aggrieved the FA is not prepared to fund additional bonuses itself, rather than allowing FIFA to foot the bill.
The women stand to earn, on average, 60 per cent more for their appearance at this World Cup compared with that of four years ago. Rewards for failing to progress beyond the group stages are 300 per cent higher this time compared with 2019, and 700 per cent higher than in 2015.
The men's team have traditionally donated their win bonuses to charity when away on England duty.
But those same players earn much more from their domestic contracts and commercial endorsements than the women do, so it could be argued they can much more easily afford to be generous with their England bonuses.
What about other countries?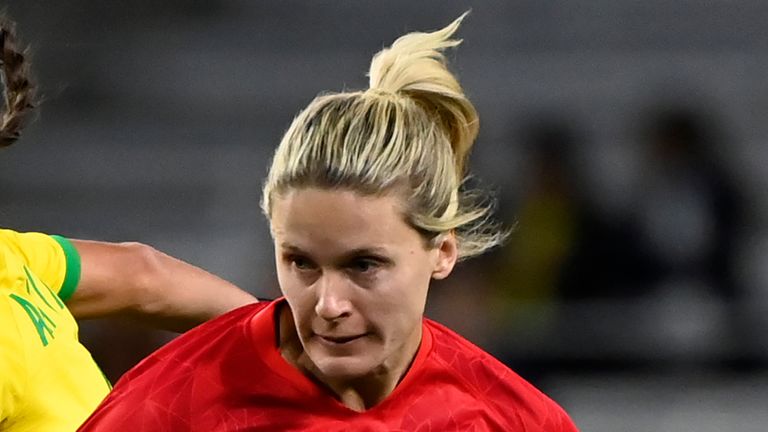 Sky Sports News reporter Anton Toloui:
"Other players are going to their associations and saying: 'Well that's great, that (bonus pot) is coming from the money you are getting from FIFA, but what else are you doing for us from the associations?'
"You have Canada, for example, [they] are still in negotiations over pay and conditions. They are trying to sort out their collective bargaining agreement.
"You have South Africa, for example, who forfeited a friendly last weekend going into the tournament because they were unhappy about the pay and the conditions.
"And then you have Nigeria. Their captain has come out and basically denied reports that they were on the verge of forfeiting the World Cup, because of bonuses as well.
"It's a big issue for many countries going into this World Cup. It's the first time England have had this issue going into a World Cup though. We'll see how it is resolved."
Wiegman: Incredible welcome for the Lionesses
England head coach Sarina Wiegman has hailed the Lionesses' "incredible" World Cup welcome in Australia.
Around 3,000 spectators watched England train during an open session at the Sunshine Coast Stadium in Queensland.
"To see so many fans join us today was incredible," Wiegman said.
"We have received such a warm welcome from everyone since we arrived, it really feels like a home away from home for us and we are delighted to be here.
"With the brilliant facilities and the excellent climate, we can't think of anywhere better to get to work and finalise our preparation for the tournament."
England will step up their World Cup preparations with a behind-closed-doors game against Canada on Friday before travelling to Brisbane three days later, where they face their opening group match against Haiti on July 22.
They will also meet Denmark in Sydney and China in Adelaide during the competition's group stage.
When and where is the 2023 Women's World Cup?
This year's tournament will be held in Australia and New Zealand making it the first-ever co-hosted Women's World Cup.
The tournament starts on July 20 with the final taking place on August 20 in Sydney at the Accor Stadium.
The USA are the defending champions and are looking to become the first team in the competition's history to win the tournament three times in a row.