The Scotland fans are daring to dream of going all the way to Euro 2024 after after a heroic victory over Spain at a sell-out Hampden Park.
Steve Clarke's side produced an outstanding display with Scott McTominay scoring another double to send Scotland top of Group A with back-to-back victories.
Scotland, who already have the back-up of a play-off place for Germany thanks to winning their Nations League section, can now aim for top spot with a double header against Norway and Georgia next up in June.
Former Scotland strikers Kris Boyd and James McFadden believe the manager is building something special and these results might not come as a surprise for much longer…
'Scotland are in a good place'
"I was very lucky to play under Steve Clarke for a couple of seasons at Kilmarnock and no disrespect to my managers there, or elsewhere, but Steve Clarke was as good as any of them," Boyd told Sky Sports News.
"Walter Smith was the pinnacle for me, but Steve Clarke is up there with the best.
"Looking back to last week, you were probably a week away from starting to ask questions of the SFA as to why they hadn't got Steve Clarke's new deal sorted. But congratulations to them and well done for getting Steve Clarke tied down to a long-term contract because he's special – there's no doubt about it.
"Players don't know where they are with Steve Clarke. I think that's a good thing because it keeps them on edge.
"This group has a togetherness and they've taken everything on board that Steve Clarke has said to them over a number of months.
"Steve Clarke set the boys up unbelievably well, as he has done since he came through the door. It's been a work in progress to get to where it is at this moment in time. Scotland are in a good place.
David Marshall claims that the 2-0 win over Spain at Hampden Park in the European Qualifier will be remembered for years to come and suggests that Steve Clarke's side are now in a great position to qualify for the 2024 Euros

"This group have been to a Euros, they've now toppled a big nation, they're in the top Nations League group as well. There's no reason why they can't quality for major competitions on a regular basis now, that's how far this group of players have come.
"A few people have said beating Spain wasn't really a shock and I agree with them. Scotland have shown in the past at Hampden that we can topple the big nations.
"We've done that again and it's another step in the right direction for this group of players."
McFadden: It was no smash and grab
Former Scotland striker James McFadden wants the Tartan Army to get

James McFadden scored 15 goals in 48 appearances for Scotland, but never reached a major tournament.
Steve Clarke has stressed the importance of staying grounded while the former Everton and Motherwell man is all about the hype.
"It was a brilliant performance, great result and just continuing the great form and feel-good factor surrounding the national teams.
"What a start to get off to two wins in your first two games, it sets us up nicely for the remainder of the campaign.
Scotland manager Steve Clarke hopes their famous Euro 2024 qualifying win over Spain gives the players more belief, but he is stressing the importance of staying 'grounded'

"It's a huge result. Spain were favourites to win the group and probably still are but we have a real belief about the national team and the performance I thought was excellent.
"Tactically, the players and Steve Clarke got it spot on and frustrated Spain for large spells of the game.
"We scored a couple of good goals and created another few chances as well so I don't think this was a smash and grab, this was a well-deserved victory.
"It's great to see that we're getting these victories and those results and performances against the bigger nations. It was something.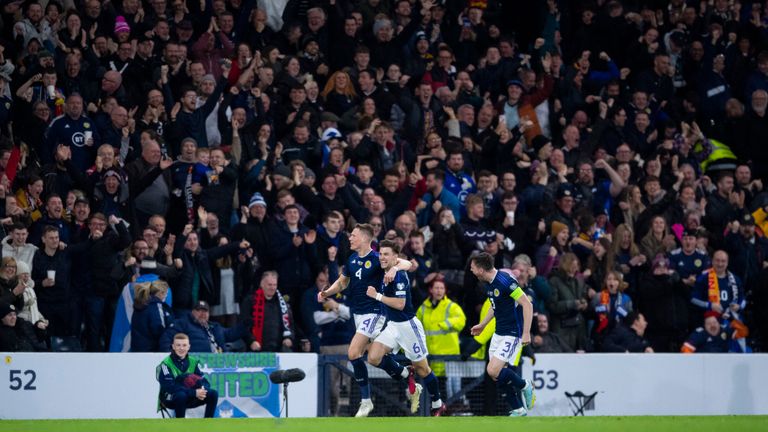 "Steve Clarke spoke before the game that we had to believe and the players certainly believed last night, and so did that crowd at Hampden.
"The atmosphere at the start was excellent. I think it's crucial if you want success that everyone is on the same page and that is clearly what's happening.
"Hopefully it allows people to get carried away. I don't mind people getting carried away because we've got a very special group of players and we've got an excellent manager at the helm, so bring it on."
Scotland's remaining Euro 2024 qualifiers:
June 17: Norway vs Scotland, kick-off 5pm
June 20: Scotland vs Georgia, kick-off 7.45pm
September 8: Cyprus vs Scotland, kick-off 7.45pm
October 12: Spain vs Scotland, kick-off 7.45pm
November 16: Georgia vs Scotland, kick-off 5pm
November 19: Scotland vs Norway, kick-off 7.45pm