Bournemouth have sacked Gary O'Neil despite the head coach keeping the club in the Premier League last season.
O'Neil took over as interim head coach following the sacking of Scott Parker in August and was given an 18-month deal in November.
He picked up 36 points during his time in charge and guided the club to a 15th-placed finish in the Premier League, with many believing he was a Manager of the Year candidate.
Explaining the decision, Bournemouth owner Bill Foley said "we have identified a number of significant targets in the transfer market" and "this change in direction will provide us with the best platform from which to build.
"Gary will go on to have a long career as a head coach or manager, but we feel that, at this moment in time, a change is in the best interests of this football club. I would like to place on record my thanks to Gary and wish him all the best for the future."
Foley also added "a new head coach will be announced shortly".
Analysis: O'Neil departure caught everyone by surprise
Sky Sports News' Mark McAdam:
"This is news that caught me by surprise and the footballing world, particularly after the way Gary O'Neil kept them in the Premier League.
"He went in under difficult circumstances, and went through a few sticky patches, particularly after the World Cup where things didn't look good at all.
"But it was from the middle of February onwards, when the club was bottom of the Premier League and staring down the barrel of returning to the Championship, that Gary O'Neil somehow managed to turn things around. They went on a brilliant winning run of six wins in nine matches.
"But when you look at the final throes of the season, they lost all four of their final games and it wasn't the happy ending to the season that perhaps the fans and the board expected, hence why they've decided to make this change.
"They'll see it as a positive and proactive move for the football club. The new owners at Bournemouth came in November, they have huge, ambitious plans for the stadium, for the training ground, they invested heavily in January with £75m spent.
"They don't just want to take the club forward off the pitch, they want to take it forward on the pitch and that means being a Premier League club, not just for another season or two, but for many years to come.
FREE TO WATCH: Highlights from the Premier League match between Everton and Bournemouth on the final day of the season

"The club will be looking at this decision and saying 'right, if we make this decision now, the new manager will come in, have the whole of pre-season, the whole of the transfer window and by the time the fixtures come in thick and fast at the start of August, he will be up and running and ready to go'.
"A change, say, five games into the season if the club didn't have the start they were looking for would have been more damaging than making the change now.
Analysis: A new manager could be appointed within 24 hours
Sky Sports News' Mark McAdam:
"I'd be immensely surprised if this decision wasn't made with someone else potentially ready to come in fairly quickly.
"I'm not expecting a managerial appointment to be a long, drawn-out process. The club will have made this decision knowing they had someone that they felt was the right person to take Bournemouth forward.
"It is a very young, hungry squad with lots of talent in it and they clearly have someone lined-up who I think will be in their reckoning and potentially, we could see an announcement in the next 24 hours – it could be that quick.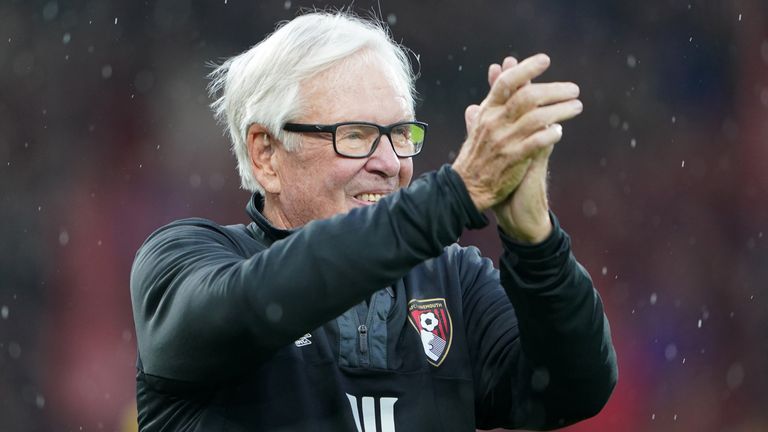 "Gary O'Neil will want to get back into football very quickly… Speaking to people in and around the club and anyone connected with football, they've spoken very highly of him.
"There's an important point as well that while Gary was the interim manager of Bournemouth, he had a number of approaches from sides in the Championship that looked at him as someone who could take their clubs into the Premier League so he's very highly thought of.
"I would suggest there will be a number of Championship clubs who will now be looking at Gary O'Neil, possibly some Premier League sides.
"He's a young, promising, hungry coach and tactically astute. His training sessions have always been described to me as innovative, he wants to come up with good game plans and I don't think it'll be long before we see Gary O'Neil back in work."
Carragher: O'Neil had case to be manager of the year
Following the news that Gary O'Neil has been sacked by Bournemouth, watch Jamie Carragher praise the job O'Neil was doing at Bournemouth earlier this year

Speaking on Monday Night Football in April, Jamie Carragher was full of praise for O'Neil and highlighted the amount of games in which Bournemouth came from being to pick up points.
He said: "At different times in the season we speak about managers of the year, the managers who have outperformed where we think they should be.
"A lot of the time we talk about Thomas Frank at Brentford and the job he's done, but this season it's the same names – Mikel Arteta (Arsenal), Eddie Howe (Newcastle), and obviously Pep Guardiola (Man City) most seasons.
"But you could make an argument for Gary O'Neil.
"His first job as a manager. He's come in on the back of Bournemouth losing 9-0 at Anfield. Every pundit, every journalist, every supporter who was asked their view at the start of the season of who will go down, everyone has Bournemouth going down, no-one has them staying up.
"And to be honest, most people would have had them bottom.
"So to be where they are, and they're so close to actually giving themselves huge breathing space to stay in this league and I actually think they will right now. So yes he's had a huge impact.
"Look at how many times they've won from being behind at half-time.
"They're top of this (list) alongside Arsenal (with three). Seven clubs have done it once this season, nine clubs haven't done it.
"So when a manager is brave enough and proactive from the side of the pitch, when his team are behind, to then make changes tactically and bring players on who are going to get a goal.
"(Marcus) Tavernier against Fulham was one. Changing the system, away early in the season at Nottingham Forest when he just took over. That's what a manager has to do. He has to impact the players on the pitch.
"When we talk about managers being reactive or proactive, in his first job, to be that brave, to make those changes from the side of the pitch, I think he's had a huge influence on where Bournemouth are this season."


Source link