Fewer than 40% of out-of-hospital cardiac arrest patients receive CPR before EMS teams arrive, according to the American Heart Association. Even fewer patients are treated with an automated external defibrillator or AED. 
New initiatives and partnerships are working to change that, with the goal of doubling the survival rate for heart attacks.
"The idea is to ensure that lifesaving policies are in place at the high school level to make sure that our kids, if they suffer sudden cardiac arrest, have the best possible chances of success," said Jeff Miller, the NFL's executive vice president for health and safety innovation.
The NFL and other professional sports leagues are working with the Red Cross and the American Heart Association to promote their Smart Heart Coalition.
10 DIETARY TIPS TO REDUCE HEART DISEASE AND STROKE RISK, ACCORDING TO THE AMERICAN HEART ASSOCIATION
"With schools being a focal place for gathering in the community, it's really important that we have emergency response plans," said Nancy Brown, the American Heart Association's CEO. 
"We know that although the statistics are true, that older people are more likely to have a cardiac arrest or a cardiovascular event, young people still have these events as well. So we want to be sure that someone is prepared everywhere to save a life."
When Buffalo Bills safety Damar Hamlin collapsed during a live Monday Night Football game about six months ago, his team's doctors were prepared.
"The people were in place; they were practiced," said Miller. "They had trained their emergency action plan. They knew to take Damar to a level one trauma center when he was evacuated from the field. They had the device there and they knew what to do with it."
HELP DESPERATELY NEEDED: AMERICAN HEART ASSOCIATION LAUNCHES 'NATION OF LIFESAVERS' PROGRAM
Miller said the NFL and Hamlin wanted to take advantage of all the attention received from this incident — and encourage everyone to have a response plan.
"We learned a lot and have tried to share a lot," Miller said. "But at the high school level, obviously they don't have the same sort of resources or setup that the NFL does. And so we want to translate some of those learnings alongside the American Heart Association, the American Red Cross and others to make sure that our schools are in the best possible place to help out kids who might need it."
"Parents, coaches and others should insist upon these very basic, simple, easy-to-enact solutions."
Every year, an estimated 350,000 people experience a heart attack outside the hospital. One in 300 kids has an undetected heart condition.
"There isn't sufficient awareness. Parents, coaches and others should insist upon these very basic, simple, easy-to-enact solutions to what is a thankfully not very common, but at the same time all too common phenomenon," Miller said. 
"Those deaths are simply preventable by these three simple policy adjustments: CPR education, an emergency action plan and the availability of an AED nearby [within] one to three minutes of an athletic contest or practice so the kid can be saved."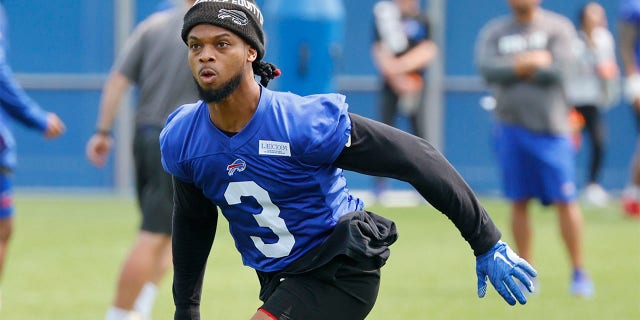 Athletes and health officials have also taken the effort to Capitol Hill. Lawmakers have introduced the Access to AEDs Act, which would provide additional funding for schools.
"It's grants that would enable communities and athletic facilities to get access," Sen. Peter Welch (D-Vermont) said.
Welch said a reaction plan is important, and a quick response helped save his brother's life.
"My brother was playing basketball and he collapsed. They had, right there at this gym, a defibrillator," Welch said. 
"And 20 years later, John's still playing basketball. So we're really grateful in the Welch family that this community has done it."
TALK THERAPY? AI MAY DETECT 'EARLIEST SYMPTOMS' OF DEMENTIA BY ANALYZING SPEECH PATTERNS
Kansas Sen. Roger Marshall is a medical doctor. He believes if more people know where AEDs are located and how to use them, they can help save additional lives.
"The chances of a person surviving this goes up from one out of 10 to three out of 10 if someone's able to start CPR. It probably goes up to seven out of 10 if we have an AED available as well," Marshall said. 
"I'm committed to getting them across the country in the right locations, but also figuring out everyone should have some type of an app downloaded that could show us those locations."
MedStar Health in Washington, D.C., is partnering with professional athletes from the Washington Capitals, Mystics and Wizards to demonstrate how to perform CPR and how to use an AED.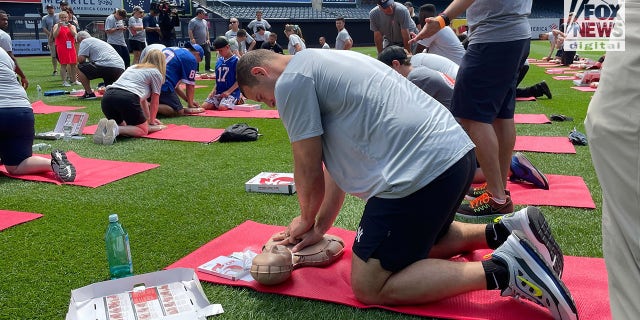 "Getting the athletes on board, with their star power, definitely makes people excited about it," Dr. Alex Koo said. 
When they show "how easy it is without any training, I think people can get really excited about and say, 'Hey, I can do it as well.'"
MedStar Health hopes the videos make people more comfortable about learning and performing CPR.
CLICK HERE TO SIGN UP FOR OUR HEALTH NEWSLETTER
"Black communities, as well as Hispanic communities, sometimes don't have as high rates of bystander CPR. And so that's something that we want to highlight, that this is something that's accessible to everybody," Dr. Koo said.
CPR training no longer includes mouth-to-mouth resuscitation. The American Heart Association also says that hands-only CPR can really make a difference.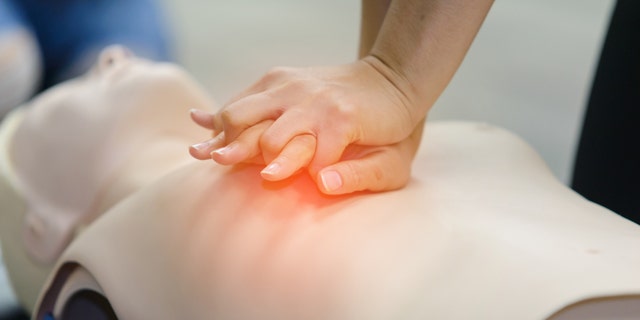 "We recognized that mouth-to-mouth resuscitation was a barrier for some people in administering CPR," Brown told Fox News. 
"Generally cardiac arrests, if they are witnessed, are generally witnessed by someone who knows the person that might be having the cardiac arrest. So the skill of learning CPR is really important because you might be saving the life of someone you know and love."
The American Heart Association believes that while formal CPR training is important, simple videos and easy-to-learn methods can still help save lives.
CLICK HERE TO GET THE FOX NEWS APP
"We do intend at the AHA to create a 'Nation of Lifesavers' and we encourage everyone to learn CPR," Brown said. "I think that CPR and AED training should be part of everyone's summer safety plan."
You can watch MedStar Health's videos at MedStarHealth.org/CPR. 
If you are interested in getting CPR-certified or learning to use an AED, you can find a class in your area at CPR.heart.org.