Trent Alexander-Arnold says it is "necessary" for Liverpool to finish higher in the table next season in the Premier League and admits they'll have to be "near perfect" to challenge Manchester City.
Jurgen Klopp's side missed out on Champions League football finishing fifth in the previous campaign and ended up 22 points behind the all-conquering Manchester City.
When asked how confident he was about Liverpool improving on fifth place, the England international exclusively told Sky Sports News: "I think as a club it's necessary to be honest. You know, we do respect every competition we play in but if you'd asked us this time last year, would you want to finish fifth, we'd have all said no and same again now.
"Would we want to finish fifth next season? No. We want to be winning the league, we want to be challenging and being in title races and in Champions League football so to not be in that next season is disappointing.
"We know how to win the league, we know how to challenge City and go toe to toe with them and you need to be near perfect throughout the season so for us that's where our heads are at."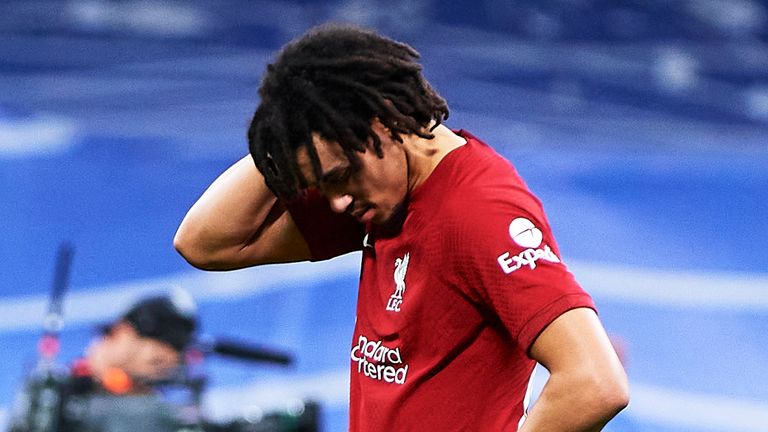 To become near perfect, Liverpool will need to improve their away form. Defeats such as those at Wolves and Bournemouth cost them dear.
"It's consistency," said Alexander-Arnold. "Throughout the season we had good results against the big teams but we dropped points and sloppy points away from home especially, so these are the things that we've all naturally thought about that we need to correct."
The 24-year-old impressed in a hybrid role for his club in the latter stages of the previous campaign, playing as an inverted right-back pushing into midfield.
He then played in an advanced midfield role for England in the recent Euro 2024 qualifiers and shone against Malta and North Macedonia.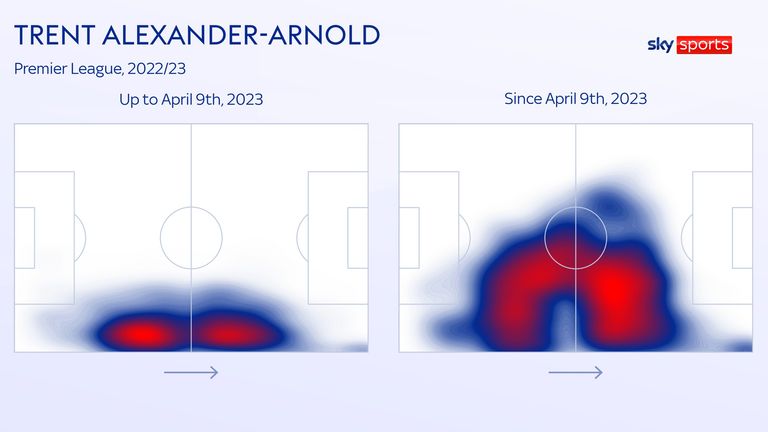 When asked about the prospect of playing in a similar role next season, a smile breaks out and there's a glint in his eye.
"It's not my decision," said Alexander-Arnold. "I only play where I'm told to play so you know all I can say is I enjoy playing football, I enjoy playing right-back, I enjoy playing in the middle of the pitch a lot.
"It's somewhere where I find joy and I'm enjoying the challenge of the two so you know I would enjoy playing there in the next season but it's not my decision where I play."
On his return to pre-season training at Liverpool, Alexander-Arnold will be linking up with midfield signings Alexis Mac Allister and Dominik Szoboszlai, a duo he describes as "dream players" in terms of being able to use his skill set to increase his number of assists.
Liverpool's pre-season training methods are known to be tough and Alexander-Arnold has recently returned from a week at a pre-season training camp in Oregon in the United States to help his body prepare: "They are definitely hard, I would say it depends how long they are. I would say some pre-seasons are longer than others.
"On a general level I do enjoy them, you know I enjoy being away with the team, travelling, staying in hotels and being in like a base camp together where you have to bond and get to know each other.
"You grow closer and you are all putting in the work for the season ahead and that's exciting because no one knows how it's going to end up, but you put in that work hoping for the best and making sure you're getting everything on board."
Liverpool begin the new Premier League campaign away at Chelsea on Sunday August 13 live on Sky Sports.
The west Londoners have a new head coach in Mauricio Pochettino but the Reds' defender is looking for a fast start to the season: "They struggled last season. I'm sure they've brought in a good coach, they've brought in some players and got rid of a lot. I'm sure they're just trying to find stability and work from that.
"Under the new manager, they'll have time to work on that and hopefully for them find stability but for us and for me, I'm just focused on Liverpool right now and making sure we get off to a good start."
Sky Sports News spoke to Trent Alexander-Arnold at Under Armour's Human Performance Centre in Portland where he was taking part in a pre-season training camp.
Liverpool's 2023/24 Premier League fixtures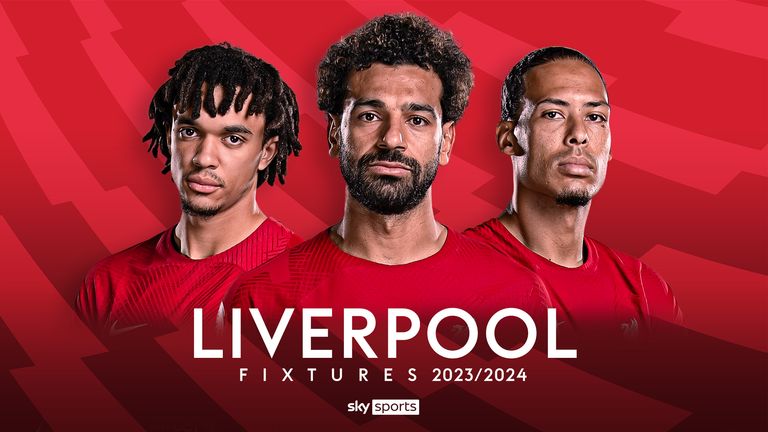 Liverpool kick off the 2023/24 Premier League season with a trip to Chelsea at Stamford Bridge in a clash that will be live on Sky Sports on Sunday August 13.
That opening-weekend fixture will be Mauricio Pochettino's first game in charge of the Blues, while the first Merseyside derby of the campaign sees Everton visit Anfield on October 21.
Jurgen Klopp's side take on champions Man City at the Etihad on November 25 and the month of December sees Liverpool face back-to-back home encounters against Man Utd and Arsenal on December 16 and 23.
The Reds also have tricky-looking games at home to Chelsea and away to Arsenal on January 31 and February 3, and Man City come to Anfield on March 9, before Liverpool make the trip across Stanley Park to play Everton the week later.
Klopp's side visit Old Trafford on April 6, with the Reds entertaining Wolves on the final day of the season.